Leigh Anderson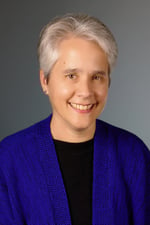 Leigh is a personable and effective financial executive with a proven ability to help management teams use financial data to make solid business decisions. She has a strong operational knowledge of GAAP, GAAP financial statement preparation, grants management, Uniform Grant Guidance, not-for-profit and for-profit accounting, and HUD accounting and operations. She is a good communicator who is able to handle both strategic and tactical challenges in industries including international businesses, grant funded not-for-profits, agricultural concerns, marine and home construction, and financial services.
Prior to re-joining CFO Selections, Leigh was the CFO at People for People, where she oversaw finance and information technology. She designed internal controls and procedures to comply with Uniform Grant Guidance, and undertook a major project to improve security, backup redundancies, and equipment upgrades. Leigh has also previously served as the Finance Director for Senior Services of Island County, Principal of Integrate Solutions, and the Executive Director of Goosefoot Community Fund.
Leigh holds a Bachelor of Arts from Connecticut College, and a Master of Business Administration from Seattle University. She is a Certified Public Accountant in the state of Washington. Leigh lives in Seattle and enjoys hiking, skiing, and most other outdoor activities.