Marjorie Kittle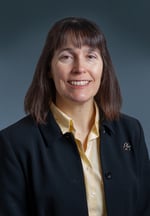 Marjorie is a thoughtful, collaborative finance leader with twenty years of experience working with nonprofit organizations in times of change. Marjorie's past roles have included finance and accounting, along with oversight of multiple departments including Operations, HR, and IT.
Her favorite projects include an element of the unknown, and she thrives on helping teams evaluate choices to determine a course of action. With a demonstrated ability to generate trust and credibility, Marjorie is valued for her technical and organizational skills, practical problem solving ability, and focus on listening to stakeholders.
Marjorie's operational experience includes management of all accounting functions, investment and endowment reporting, grants management, contracts and leases, vendor management, and communication with executive management and audit/finance committees. Marjorie also has experience with coordination of federal and state tax filings. Most recently she worked for Washington Trails Association, serving on the Leadership Team, managing a $5.6 million budget. During her tenure, the organization doubled in number of staff and budget size.
Marjorie holds a Master of Business Administration with a concentration in Public Management from Boston University, a Certificate in Fundraising from the University of Washington, and a BA from the University of Southern California. In her spare time she enjoys hiking, attending theater, and hosting dinner parties.