Ty Graham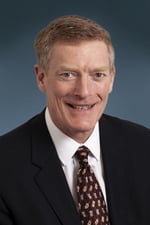 Ty is a seasoned CFO with more than thirty years of experience in fast paced technology environments and venture capital. He possesses excellent leadership and operational skills motivating teams to optimize their strengths and work toward a defined objective. He has an established track record of delivering results around successful exits, fund raising, strategic repositioning, and restructuring.
Prior to joining CFO Selections, Ty was the CFO and COO at Spoken Communications. While there, he completed numerous acquisitions, equity raises, and divestitures. After driving revenue increase greater than 300% during his tenure, Ty managed the sale of the company. Before Spoken, Ty was an Operating Partner at Ignition Capital. With Ignition Ty was responsible for fund financial performance tracking and analysis. He also evaluated new investment opportunities and worked closely with portfolio companies to enhance performance and facilitate profitable exists. Ty also worked across Ignition Partner other funds to perform operational audits and drive improvements. Earlier in his career, Ty was the VP International Operations at AT&T Wireless, directing global teams on the acquisition and operation of cellular licenses across Asia, Latin America and Europe. Ultimately assuming the CEO role of the third largest cellular operation in India.
Ty holds a Bachelor of Arts in Finance from the University of Washington, and a MBA in Finance from Seattle University. He also is on the board of the Doc. Edwards foundation, which awards educational scholarships at the University of Washington and a long time proud supporter of the University of Washington Crew program.