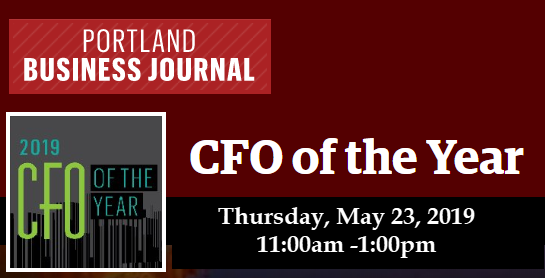 On Thursday, May 23rd, the Portland Business Journal will honor the top CFOs across the Portland region at the Hilton Hotel in Portland. Several members of the CFO Selections Oregon and SW Washington Consulting Team will be attending, and you will also have an opportunity to meet the remarkable leaders who will be honored at the event and learn what they have done to help steer their companies to success. We are especially appreciative this year because Charlie Zupsic, the CFO of our client, Wall to Wall Tile & Stone, is being recognized.
Events recognizing those who make an impact while working behind the scenes are priceless as they can inspire others. Such an event only happens because of support from the Portland Business Journal and the sponsors.
A list of those who are nominated can be found on the event registration page here.
Shauna Deacon, who is on the CFO Selections Oregon and SW Washington Consulting Team, nominated Charlie, highlighting how he stands out as exceptional.
The story began when Shauna Deacon first met Charlie in 1997.
"My respect and admiration for Charlie Zupsic started in 1997 when working for him at a wholesale distributor that was experiencing a significant amount of growth and change," said Shauna Deacon
While serving as interim controller, Shauna was approached by her client, Tyler Kruckenberg, the Founder of Wall to Wall Tile & Stone asking for a CFO recommendation, Shauna enthusiastically recommended Charlie as a perfect fit culturally and strategically.
Ultimately, he was chosen to navigate this rapidly growing manufacturing organization with multiple businesses/locations through the changes it needed to stabilize and be scalable. Charlie hit the ground running, identified and prioritized the needs of the organization, hired a staff, boosted morale and started leading the charge. He enabled a banking relationship more aligned with the business' needs, implemented a new ERP system and created new and improved partnerships with service providers in a very short period.
What stands out? Why was Charlie Zupsic nominated to be considered as a PBJ CFO of the year? Here are but a few reasons:
At times he appears to do magic. He is "as good as it gets" and yet Charlie has never let success or fanfare go to his head and stays humble.
Even though a fierce competitor, Charlie also has a kind spirit and works well with people at all levels. With his ability to play at so many levels, he is an effective leader that everyone trusts and wants to follow.
Charlie has been presented with problems that would seem insurmountable to the 'normal' person. He is a strategist who can break it down and effectively execute a winning plan.
There is no job too big or too small for Charlie. A memory shared was of seeing him walk through the department with a plunger.
He seems impenetrable and continues to strategize and land on top.
Charlie has the integrity that goes to his core with a communication style that makes him always approachable. Many have benefited from his mentorship.
"With the many successes and contributions that Charlie made to Wall to Wall Tile & Stone this last year, he is a standout, and I can't imagine anyone more deserving for the honor of CFO of the year " – Shauna Deacon, CFO at CFO Selections.
If you are planning on attending the event, please reach out to us by email or phone. We would enjoy meeting you during this celebration.