FINANCIAL CONSULTING SERVICES
At CFO Selections® we believe small and medium-sized businesses deserve the same caliber of financial expertise typically only available to large companies.
Through our Resource Selection Process™ (RSP) we provide trusted financial executives to meet your exact needs. CFO Selections qualifies each opportunity to select a consultant that matches the client's needs in skill set, cultural fit, and availability. Our seasoned CFOs and Controllers know how to evaluate the issues facing your company, lay out a plan to navigate them, and provide you with hands-on help to get results. We produce these results when you need them, and without disruption to your organization.
We work hand-in-hand with your management, providing counsel and guidance in solving complex business and financial problems.
We address our client's external and internal finance department issues by providing CFOs or controllers based on their fit with our client and their needs, for part-time, interim, and/or project based financial expertise.
To join our team, our CFOs and controllers undergo an extensive review process and are committed to us because our business model enables them to work as much as they'd like.
Our team has experience in diverse industries and all stages of business, including startup, high growth, turnaround, and simple to complex M&A.
Our CFOs and controllers are senior-level executives with 20+ years of experience understanding, evaluating, and translating financial data into actionable information.
We have spent over a decade building a vast database of finance executives to ensure we have the right relationships, especially with those already employed, to meet our client's search needs to source the ideal finance candidates.
All of us at CFO Selections are committed to one of our core values – we believe that we have an obligation to give back to the communities we serve by contributing our time, talent and treasure through our CFOS Foundation and our individual philanthropic efforts.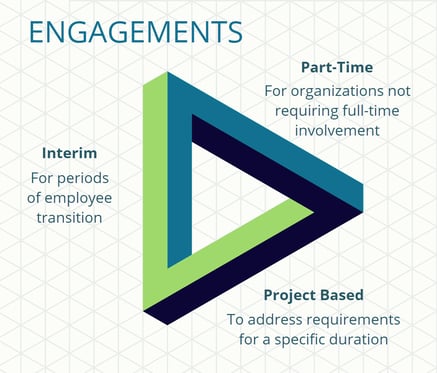 Every company needs a trusted financial executive. But for small and medium-sized companies, the needs can vary widely. Some companies do not yet require a full time or permanent CFO.
Others have tried an on-staff CFO and found that the individual had experience that was more than was needed or not on point. Perhaps you are experiencing a growth spurt, have decided to grow with an acquisition, or are about to embark on a new systems conversion. These all require experience and specific skills for an important period of time.
Engagements often begin by assessing the overall financial picture of a client company's financial health.
Our engagements can be as short as a quick assessment lasting only a few days, or a project like a sale or acquisition, to long-term growth management and execution over an extended period of time. All businesses need sound financial management, the question is how much — and at what level and cost. CFO Selections® can provide the right experience and skill sets for your immediate needs, and then customize our services as your business changes.