Since 2002...
CFO Selections LLC was founded in 2002 by Tom Varga in the belief that small and mid-sized businesses deserved the same caliber of financial expertise typically only available to large companies.
CFO Selections was established as a professional advisory firm, with consultants operating as independent contractors, in conjunction with CFO Selections, to serve the privately held business markets in the greater Seattle/metro area with Controller and CFO services on a fractional basis.
Once established, the organization grew steadily, from inception. Aside from a brief lull during the "Great Recession" of 2008, CFO Selections has expanded. Attributable to a culture that places a premium on life-balance and attention to the balance tenured professionals seek.
Our values and culture remain steadfast since the beginning. We are dedicated to:
A respectful and inclusive workplace - a workplace where all are welcome and is free from discrimination and harassment.
Maintaining a professional workplace & ethics - our watchwords are trust, confidentiality, professionalism, and integrity.
Philanthropy being at our core - we believe that all companies have a responsibility to give back to the communities from which they earn their living.
At CFO Selections we believe our organization is stronger, richer and more sustainable with a diverse and inclusive team. We recognize the historical privilege which has resulted in inequitable circumstances for people who are different. We strive to improve the diversity of the CFO Selections team by providing equitable opportunity for all in our recruiting and within our firm's culture.
In 2006 CFO Selections' service offerings grew with the addition of Executive Search services for financial executives in the for-profit and nonprofit sectors. CFO Selections expansion continued in 2010 into Eastern Washington. In 2013 our expansion continued into Oregon.
CFO Selections acquired Accounting Solutions Partners (ASP) in 2016 to provide fractional accounting and bookkeeping services. A new brand was established in 2018 in the Valtas Group, to provide interim Executive Directors and ED recruiting for nonprofit organizations.
The following illustrates a few highlights and milestones during the evolution of CFO Selections.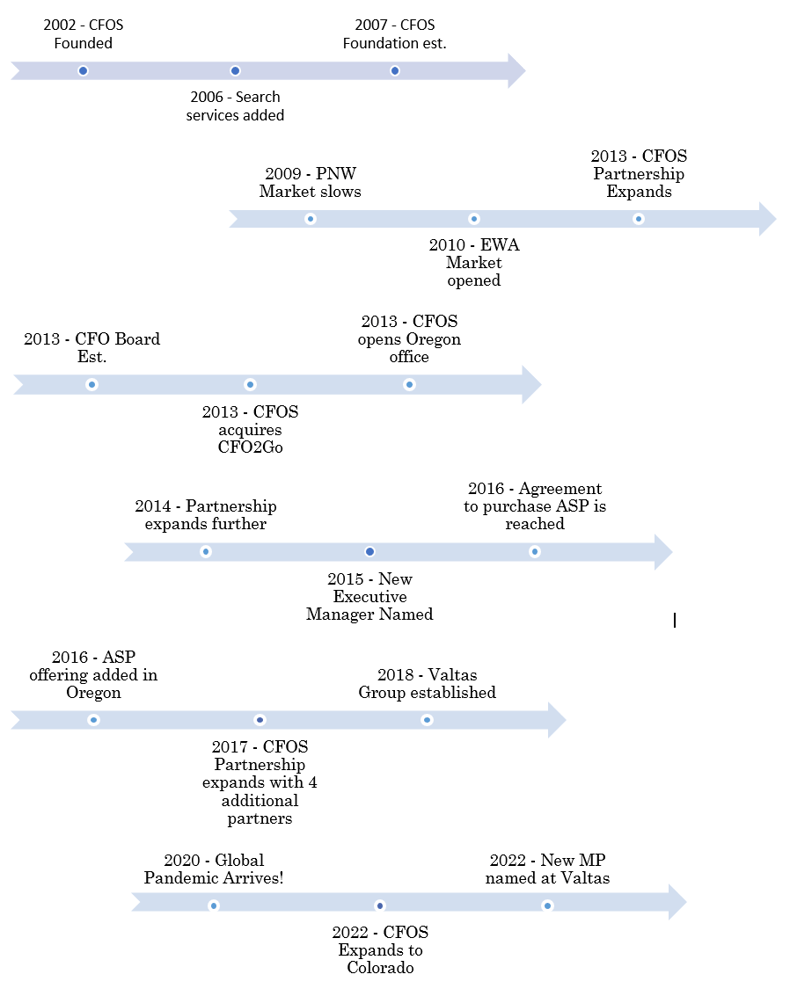 Since its creation in 2002, the accomplishments at CFO Selections are many. The organization continues to strive to create meaningful opportunities for those closely associated, and to provide unparalleled service to the clients CFO Selections serves.