A NOTE FROM OUR FOUNDER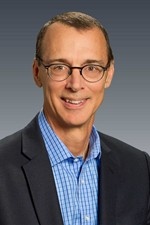 CFO Selections® was launched in 2002 after 25 years of working with small and mid-sized businesses and listening to entrepreneurs and executives lament about the lack of experienced financial help on an as-needed, affordable basis.
Consequently, in 2002 I collected a team of seasoned financial professionals and created a business model uniquely tailored to meet the needs of small and mid-sized companies. In 2006 we added permanent recruiting and search services to our consulting model and thereby address the total needs a company may have for senior financial talent. 2007 saw the launch of our foundation, whose mission is to provide time, talent, and treasure to further the well-being of Washington's foster children.
Historically, few contract service providers have solved the puzzle of working with small businesses in a CFO capacity. The larger consulting and regional professional services organizations rely on a staff utilization model which requires layers of overhead, high hourly rates, and minimum commitments. They are set up to provide full-time professionals on long-term projects and are not organized to provide part-time only services on a continuing basis, which is what most small businesses really need. On the other end of the spectrum, the independent consultant provides highly specialized and flexible services specifically tailored to the client's needs. However, the client is constrained by the unique skills of that particular individual and if the consultant becomes unavailable for any reason, the company is potentially left without help when it needs it the most.
The CFO Selections® model combines the best of both approaches. Our team of over 40 executives have truly "been there and done that." They bring an average of 26 years of work experience not only in Finance and Accounting but in the other critical "back-office" areas a business needs to run. We leave behind the layers of overhead, and thus affordably price our services based upon a continuously updated scope of work. We offer an array of flexible pricing plans from fixed rate to straight hourly charges: no unapproved extra expenses, no fees for phone calls, e-mails, or support staff time. You know exactly what you are getting and what it will cost you before the engagement begins.
CFO Selections' team of recruiters and placement partners has over 30 years of successful experience placing top level financial executives. We are problem solvers for our clients. Our approach is different: because we focus exclusively in senior accounting and financial executive search, our network and ties within the community mean you will be assured of securing the highest caliber talent for your company.
If you are ready to consider adding a part-time CFO or controller specifically matched to your needs or are looking for that key accounting or finance executive to add to your team, call us today and we will meet with you to investigate the possibilities.
Thomas L. Varga
Founder
CFO Selections, LLC
tom@cfoselections.com
425.766.8448