Ann Ferguson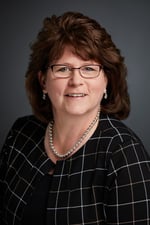 Ann brings 30 years of experience as an accomplished finance and accounting executive focused on working with clients in the manufacturing, nonprofit, and real estate industries. Her strengths include financial reporting and analysis, strategic planning, risk management, and human resources.
Prior to joining CFO Selections, Ann was an independent contract CFO working with a Salem-based company where she assisted the President on several targeted finance and human resource department projects. Before launching out on her own, Ann was the CFO of Schmitt Industries, Inc., a publicly traded Oregon corporation focused on designing, manufacturing, and marketing highly precise test and measurement products across three distinct product lines. During her time at Schmitt, Ann completed several significant projects, including the successful sale of the company's largest product line and the completion of a rights offering which provided critical additional funding for the company. Prior to her tenure with Schmitt, Ann was an audit partner with Deloitte, where she served clients in the manufacturing, nonprofit, real estate, and healthcare industries. She also was responsible for leading the on-campus recruiting efforts for the Portland office.
Ann is a licensed CPA in Oregon and holds a Bachelor of Science in Accounting from the University of Oregon. She is a member of the American Institute of CPAs and Oregon Society of CPAs. Ann lives in Beaverton, Oregon with her husband and enjoys traveling with her husband, walking with her dog, and playing indoor soccer.