Jim McGovern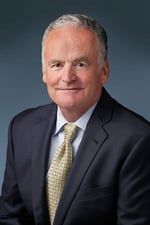 Jim is a senior executive with three decades of delivering results in turnaround, mature and growth environments. His industry experience includes forest products, consumer goods manufacturing and distribution, food processing and transportation. He has extensive expertise with M&A, operations, financial planning and analysis, accounting, treasury and risk management in small and large companies including non-profit organizations.
Jim is a practical thinker with strong business acumen and a focus on customer, investor and employee needs. He is an operationally focused CFO, comfortable interacting with and influencing decision making with customers, investors, managers and employees at all levels in the organization. He is skilled in strategic planning, financial modeling and driving continuous improvement in critical aspects of an organization. His structured approach is underpinned with strong organization, interpersonal, and planning skills.
Prior to joining CFO Selections, he was CFO at Tidewater Barge Lines and Transportation where he helped grow and transition the business to new ownership. Working closely with the CEO, he led the integration of two acquisitions resulting in 30% growth in revenues and earnings. Before Tidewater he was CFO at The Neil Jones Food Company where he drove the implementation of the company's ERP system and improved internal controls and product costing, which contributed significantly to 60% growth in earnings over a three-year period.
Jim has a cultural awareness and sensitivity from multi-country work experience with several international fortune 500 companies including Schnitzer Steel Industries, Louisiana-Pacific and Black & Decker, and Georgia Pacific. He was born in Dublin, Ireland, has dual U.S. - Irish citizenship and has lived and worked in several countries: Ireland, Canada, Australia and England and most states within the U.S.
Jim's affiliations and community involvement includes being a Board member of Oregon Recovery High School Initiative, Board Chair Children's Trust Fund of Oregon; University of Portland President's Club; Habitat for Humanity; Oregon Food Bank; Junior Achievement; West Linn Softball Association and Willamette United Soccer Club.
Jim holds an MBA from the University of Portland with an emphasis in Finance and Strategic Planning and a BS from the University of Portland with three majors Accounting, Management, and Marketing,
His interests include travelling, community involvement, outdoor activities, and historic automobiles.