Steve Graham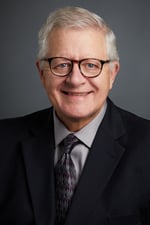 Steve has over 30 years of executive finance experience in the manufacturing, nutraceutical, and food and beverage industries. As an accomplished and visionary leader, he is known for his exceptional communication skills, ethical decision-making, and high level of integrity. Steve has international CFO and domestic CFO/COO experience, including complete P&L responsibility, private equity, significant M&A due diligence, and post-acquisition integration and exits. His ability to transform financial information into valuable, cost-reduction initiatives pertaining to process improvements, supply chain, inventory, and people and product management has been integral to his success.
Most recently, Steve worked as CFO at Del Real Foods where he streamlined monthly physical inventories procedures and successfully renegotiated bank covenants. He has managed all aspects of finance, accounting, treasury, IT, and HR at multiple companies, including extensive experience in both buy-side and sell-side mergers and acquisitions. During his time at Dean Foods, Hawkins/Stauber, and American Fish & Seafood, he managed multi-site divisions; while with Paperpak, he managed both multiple-site and multiple-country divisions.
Steve received his Bachelor of Business Studies in Accounting from Illinois State University and his MBA from the University of Utah, and is also green belt certified in Six Sigma.