Amy Michael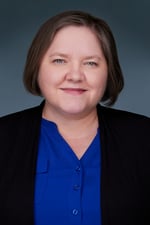 Amy is a people-focused nonprofit leader who is passionate about building financially healthy organizations; she loves coaching people and teams to engage with their work and world at the intersection of the best and highest use of their skills, self-awareness, and passions. Throughout her career, she has been an integral part of management teams where she brings a solid understanding of strategic planning and implementation using strategies such as process improvements, accessible financial reporting, leadership and dynamic team development, and use of compelling presentations to simplify complex information.
Most recently, Amy has been a leadership development coach and consultant in the nonprofit sector and teaches finance in the Masters in Nonprofit Leadership program at Seattle University. Previously, Amy was the CFO at the social enterprise FareStart for seven years. Amy has over 25-year experience overseeing IT, HR, facilities management, and treasury as well as finance and accounting for multiple companies in both the nonprofit and for-profit sectors including the social services, construction, wholesale, and retail food service industries.
Amy has earned an MBA from Seattle University and a B.A. in Sociology and Women Studies from the University of Washington.