Dave McGee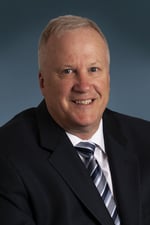 Dave is a financial leader with over twenty-five years of experience and a proven track record in financial reporting, strategic planning, performance improvement, corporate controllership, and cash management. He also has experience in financial modeling, building successful accounting and finance teams, manufacturing accounting, and both sides of M&A. In addition to his deep technical accounting background, Dave has the ability and experience to oversee multiple other departments including Operations, HR, Payroll, and Information Technology. He is passionate about helping companies strengthen their financial operations and positioning for future growth.
Prior to joining CFO Selections, Dave provided CFO and Accounting consulting services through his own business. Dave served as the CFO for Orca Bay Foods, and in multiple senior management positions at Trident Seafoods including Corporate Controller and Director of International Operations. Throughout his career, he has developed numerous influential metrics and reports that have helped businesses grow and dial in their focus on areas of needed improvement. He has provided key strategic guidance on cash management, pro forma modeling and analysis, due diligence for M&A activities, and the identification of investment opportunities. Dave's international experience includes opening business support offices and building financial infrastructure in Japan, China, Korea, Germany, The Netherlands, and Brazil.
Dave holds a Bachelor of Arts in Business Administration with a focus in Professional Accounting from Eastern Washington University. He and his wife reside in Mill Creek and he enjoys cooking, travel, and family time.