David FitzPatrick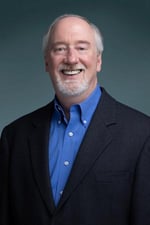 David is a uniquely experienced accounting and operations processional and leader, with experience as a leadership and personal development coach. His 35 plus years of experiences cover a wide-range of industries including distribution, manufacturing, hospitality, non-profit, tribal government, and telecommunications. David is a detail-oriented process thinker with the ability to shift between the strategic and tactical in executing processes, systems and people leadership. With his understanding of organizational and people systems, David is often called upon to lead the due diligence, closing, and integration of acquisitions. His passion for processes and systems evolved from his college experiences when accounting systems and auditing were taught as a combined course.
After starting his career with Waste Management, Inc. in Denver, David worked in the telecommunications industry while pursuing his MBA. He then relocated to the Seattle area where he began a long career as a financial leader in the wine industry. Prior to joining CFO Selections, David and his wife started a luxurious and highly successful bed and breakfast business in the heart of the Olympic Mountains overlooking the Strait of Juan de Fuca San Juan Islands, and mountain ranges of British Columbia, and where they welcomed guests from all over the world. During this time, he also provided financial leadership, accounting, and tax skills in the hospitality, tribal government and CPA firm arenas.
David holds a Master of Business Administration from The George Washington University, a Master of Arts in Counseling/Life Coaching from Liberty University, and a Bachelor of Business Administration in Accounting from the University of Massachusetts-Amherst. In his spare time, David enjoys traveling and hiking with his bride, eating sushi with family, helping people identify their gifting, and passionately rooting for his favorite sports teams.