Karen Mooney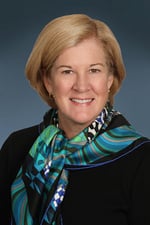 Karen started her career as a CPA at a "Big 8" public accounting firm but decided relatively early that business, not auditing, was her passion. She enrolled in night school, earned an MBA from Seattle University with emphasis in Operations and Marketing, then sought out jobs that would provide varied experiences and opportunities to try new things. Job titles along the way have included Accounting Manager, Controller, VP Operations, Director of Finance, VP of International Development, General Manager, Chief Operating Officer, President and, of course, Chief Financial Officer.
In 1993, she purchased a small FAA regulated aviation repair company with four employees and one customer. Over the next 18 years, she and her team grew Pacific Aero Tech into an acknowledged world leader in 3rd party aircraft window repairs with major airline clients located in the USA, Asia, Europe and South America.
After the successful sale of Pacific Aero Tech in 2010, Karen briefly considered retirement but decided it was too soon. Her first job post sale was with CFO Selections, where she enjoyed working with a variety of clients, in a variety of industries, in a variety of engagements. Nevertheless, she could not resist when, in 2013, she was offered an executive position at UP Global, an international non-profit dedicated to assisting entrepreneurs in over 100 countries. There she had an exciting, fast paced, and fulfilling couple of years working with a young, passionate, international team and a high-profile Board of Directors that included Steve Case, founder of AOL and venture capitalist Brad Feld.
In 2016 Karen accepted the position of CFO at C+C, a rapidly growing public relations agency, dedicated to social good campaigns, such as environmentalism and public health. As of 2023, she has returned to the fold at CFOS, happy to use the skills and experiences she has gained over a rich career to assist clients in meeting their challenges.
On a personal note, Karen is never bored. Her interests include any type of boating, sewing, reading, biking, theater, skiing, music, travel, and gardening.