Kevin Briscoe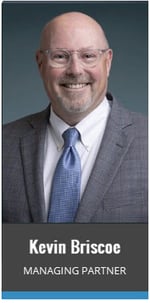 Kevin Briscoe's professional career spans over nearly 30 years in finance, accounting, and operations in publicly traded corporate and small closely held settings. Kevin excels in financial analyses and accounting operations, implementing internal controls, and creating and implementing organizational systems. He has held ownership and management positions, demonstrating an outstanding ability to provide effective leadership in increasing profitable growth throughout his career.
Kevin was a Principal, COO, and VP Finance for Pacific Lighting, helping drive their growth from $30 to $70 million. He served as a financial member of South End Equities, where he was responsible for the purchase and management of over $6 million of commercial real estate. Prior experience includes roles as VP Finance and Operations for Workforce Technologies and Director of Accounting for SYSCO Food Services of Seattle.
Kevin earned a Bachelor of Business Administration degree in Accounting from Gonzaga University. He currently serves as Board Advisor for The Linehan Institute, and has served as a past Board member of the Electric League of the Pacific Northwest Charitable Foundation, as Co-Chair for the American Cancer Society 'Race for a Cure' benefiting Breast Cancer research, and also coaches softball in Kent, where he lives with his wife and enjoys spending time with his four children and many grandchildren.