Bellevue, WA — Continuing its mission to improve the lives of foster children, the CFOS Foundation is pleased to announce that it has awarded a $50,000 grant to Amara, the second grant to the organization in five years.

John Morse, Amara's Executive Director, said "Thank you, CFOS Foundation, for your very generous investment. Your grant will ensure that Amara can continue to expand its impact on the lives of children in foster care – both by providing short-term emergency services and by helping more children find loving, committed forever families."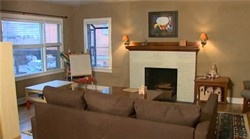 Founded in 1921 as Medina Children's Services, Amara offers temporary care to children entering the foster care system, foster care and adoption services for children already in the system, and training and support for adoptive families. Amara's emergency sanctuary, shown at right, provides a safe and supportive place for kids immediately after they are removed from their homes by Child Protective Services or law enforcement, and is the only facility of its kind in King County.
To learn more about Amara, you can visit their website at www.amaraparenting.org. To volunteer, click here. To donate, click here.
About The CFOS Foundation
The CFOS Foundation was founded by the partners of CFO Selections LLC. The vision of this group is to harness the energy and talent of professional people who care about the needs of local foster children and work to make a measurable, positive impact in their lives.