As part of its continuing mission to impact the lives of foster children, the CFOS Foundation is pleased to announce a grant of $15,000 to Treehouse. This grant will support Treehouse's programs to help kids in foster care experience success in school and in life.

Treehouse was founded in 1988 by DSHS social workers who saw the deprivation often faced by children in foster care. They held bake sales and car washes so they could provide the little things needed to help children feel loved and capable.

These small efforts have blossomed. Today Treehouse provides clothes, toys, and school supplies at their Wearhouse, and access to critical extracurricular activities and community resources through the Little Wishes program – bringing support to thousands of children in foster care each year.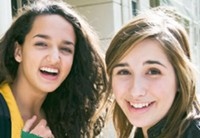 Their most impactful program, Graduation Success, creates a partnership with school systems, government agencies, caregivers, social workers, and funders to address the alarmingly high dropout rates among high school students in foster care. This innovative and research-based program provides middle and high school youth in foster care with the resources and education planning, monitoring, and coaching services that they need to graduate from high school with a plan for their future. Treehouse is on track to achieve their ambitious goal for foster youth in King County to graduate at the same rate as their peers with a plan for their future, beginning in 2017.
Janis Avery, CEO of Treehouse, said "We are thrilled with the CFOS Foundation's investment in the work we do to help our community's youth in foster care succeed in high school and beyond."
For more information about Treehouse, or to volunteer or donate, visit them on the web at www.treehouseforkids.org.