At CFO Selections, part of our commitment to philanthropy is "giving back to the communities in which we live and work." So we're very pleased to announce the addition of our first Oregon-based Foundation Board members, Derenda Timmons Schubert and Carol Wire.
Derenda and Carol's extensive experience in the nonprofit and public policy arenas in Oregon will allow us to jump start our giving and provide well-targeted funds for Oregon's foster kids. For more information about our new board members, please see our Foundation Board page.

Derenda Timmons Schubert is the Executive Director of Bridge Meadows, a nonprofit organization that focuses on developing and sustaining inter-generational neighborhoods for adoptive families of foster children. Prior to Bridge Meadows, Derenda was an executive at Trillium Family Services and a practicing psychologist and clinician in the greater Portland area.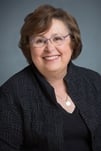 Carol Wire is the Associate Executive Director of Dress for Success Oregon, a nonprofit that focuses on job procurement and retention for low income women. Among other positions, she has served as Deputy Director for the Oregon Commission on Children and Families, Director for Washington County Commission on Children and Families, and Director for Multnomah Commission on Children and Families.