Kindering's 24th Auction Gala, held recently at the Grand Hyatt Seattle, was considered a huge success. A major milestone was reached with over $1.1 million dollars raised.
Dennis Bounds, former King 5 News Anchor, hosted the Gala which was a Parisian-themed night full of fun, festivities, and a toast to Kindering's extraordinary children and families.
In honor of Executive Director Mimi Siegel's 40th year in her role, all of the past honorary auction chairs came together to ensure the evening was très magnifique.
The 2018 Auction Chairs included: Karyl & Elias Alvord, Charlene & Frank Blethen, Tina Quinn Christiani, Diane & Peter Demopulos, Betty & Kemper Freeman, Effie True Gleason & Kevin Gleason, Grace & Howard Lincoln, Catherine Mayer & Martin Selig, Rob McKenna, John & Kelly Olerud, Kylee & Robby Tonkin, Janet & Doug True, Drs. Reinier & Rosie Van Coevorden, Autumn & Isaac Wells, and Sheryl Willert & Ross Jacobson, Esqs.
CFO Selections® attendees included Tom Varga & Christine Martin, Kevin & Carol Briscoe, Bill & Cathy Palmer, and Nancy Smith.
It was a great tribute to Mimi's leadership and the valuable services that Kindering provides," said Kevin Briscoe, CFO Selections Managing Partner.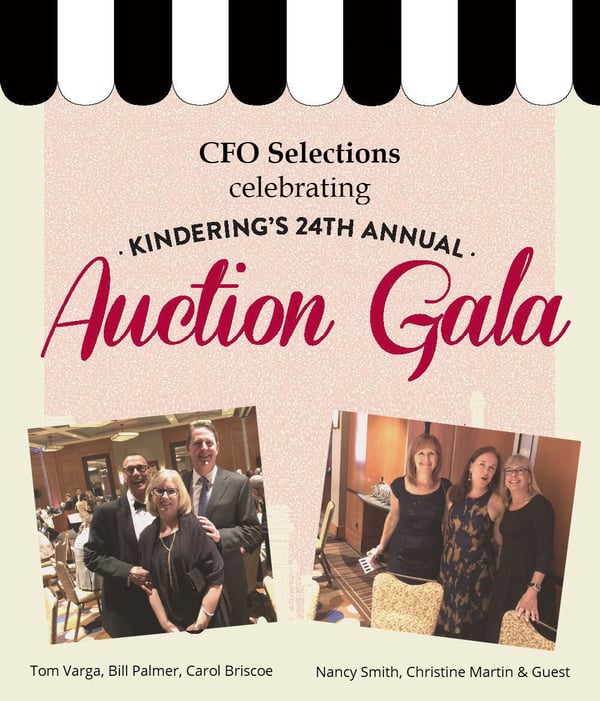 We are honored to support an organization like Kindering who embrace children of diverse abilities by providing therapies to nurture hope, courage and the skills to soar." – Tom Varga, CFO Selections Founder
About Kindering
Kindering offers Early Intervention, Early Learning, Special Education, Family Support, Parent Education, Toddler Preschool, and Private Therapy to families in East King and South Snohomish County, WA from two locations, Kindering Bellevue and Kindering Bothell. Kindering is a non-profit 501(c)(3) organization. Every Gift Makes a Difference at Kindering! You can make contributions in a multitude of ways here.
About CFO Selections
CFO Selections provides finance and accounting interim consulting and executive search services to a wide range of organizations in the Northwest. Established in 2002, CFO Selections focuses on locating and recruiting the highest caliber senior-level talent available. Its team of consulting CFOs and Controllers work in a collaborative and problem-solving way to generate maximum results.