We are proud to announce that CFO Selections ranked 22nd in the Puget Sound Business Journal as one of the Eastside fastest-growing private companies. This is the fourth year CFO Selections has been recognized.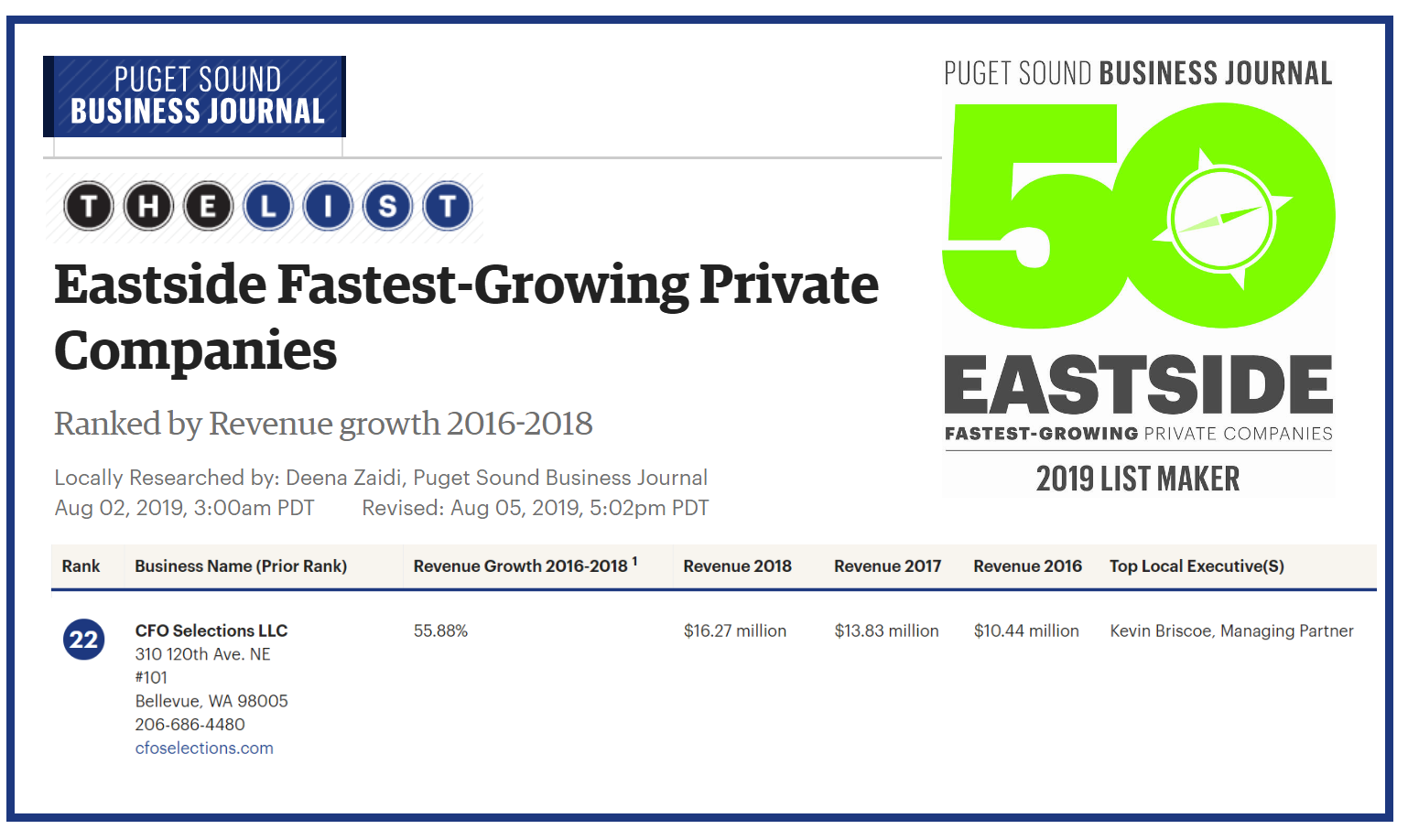 Information from those listed was obtained from firm representatives through questionnaires. Only privately-owned companies that are globally headquartered in the Eastside of western Washington, and recorded revenue of at least $500,000 in 2016 could qualify for the List.
The Eastside includes the cities of Bellevue, Bothell, Issaquah, Kirkland, Newcastle, North Bend, Redmond, Renton, Sammamish and Woodinville. The List was researched and compiled by Data Reporter, Deena Zaidi.
We are humbled by the trust in us from so many that has led to the growth we have seen and the overwhelmingly positive feedback, as well as a loyal client base which is growing every month.
We're pleased to be recognized, and to know we are playing a part in the growth of the region's economy by providing many local companies with excellent consulting and executive recruiting services"
- Kevin Briscoe, CFO Selections Executive Manager
With a growing team of industry professionals, outstanding referral partners, the future continues to look bright. A heartfelt thank-you goes out to our clients, partners and affiliates for an amazing 17 years.
To see the full list, visit PSBJ here.
About CFO Selections:
CFO Selections provides part-time, interim and project-based finance and accounting consulting, and executive search services to a wide range of organizations in the Northwest. Established in 2002, the company focuses on locating and recruiting the highest caliber senior-level talent available. Its team of consulting CFOs and Controllers work in a collaborative and problem-solving way to generate maximum results.