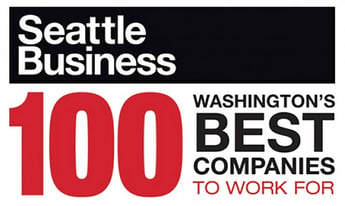 CFO Selections has been named as one of Washington's 100 Best Companies to Work For 2020 by Seattle Business magazine.
This is the 31st year, Seattle Business magazine searched for the top companies in Washington that set the standard for work environment, rewards & recognition, benefits, communications, responsibility & decision-making, and executive leadership for its annual 100 Best Companies to Work For program.
"We are pleased to be recognized again as one of the area's best places to work," said Kevin Briscoe, managing partner of CFO Selections. "It is part of our mission as a company to provide a great workplace to all of our associates, who are in turn responsible for our success. We are honored to be included in this group…. Many thanks to our team for this award."
Earlier this year, company names were submitted to Seattle Business magazine's 100 Best Companies to Work For competition. Each year, hundreds of companies across Washington state enter the competition. And each year, hundreds of companies don't make the list.
The results are in – and after scoring and analyzing survey results as compared to hundreds of others, CFO Selections is #2 on Seattle Business Magazine's Best 100 Companies to Work for 2020 in the small business category (15-49 employees)!
CFO Selections is dedicated to serving our clients. This recognition reflects how we also prioritize service to our team. Our consultants are seasoned, senior level financial executives. Our culture intentionally supports them in achieving their life goals and the causes they support along with offering opportunities to serve world class organizations." said Kevin Briscoe.
About Seattle Business
Seattle Business is a print and online magazine providing insight into the key people, enterprises and trends that drive business in Washington State. It has 69,000 monthly readers which includes newsstand, paid subscribers & controlled circulation, and reaches 85% of all business executives in Washington state.
About CFO Selections
CFO Selections provides interim, fractional and project-focused CFOs & controllers for businesses and nonprofit organizations; executive search services for financial executives in for-profit and non-profit sectors. The firm focuses on locating and recruiting the highest caliber senior-level talent available. Its team of consulting CFOs works in a collaborative and problem-solving way to generate maximum results. CFO Selections' trusted executives have assisted many clients in bridging the gap to profitable growth by tailoring their services to meet exacting situations. Through the Accounting Solutions Partners division: provides interim, fractional and project-focused accountants & bookkeepers; through Valtas Group: interim Executive Directors, consulting, board advisory services, and executive search services for EDs in non-profit organizations.
CFO Selections is headquartered in Bellevue, WA, and can be reached by contacting Managing Partner Kevin Briscoe.