Bellevue, WA — CFO Selections is pleased to announce that Kevin Briscoe, Partner-in charge of Washington Operations, has been promoted to the role of Firm-wide Managing Partner.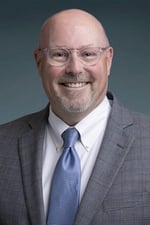 Tom Varga, CFO Selections Founder and former Managing Partner, said "Kevin is the right executive at the right time to continue leading our firm into the future. We have built a strong foundation over the past decade with established offices in Seattle, Bellevue, Yakima, and Portland and the firm is well positioned for continuing growth. We are fortunate to have found within our ranks a leader with Kevin's foresight and experience to help chart our course."
Kevin Briscoe has been responsible for managing CFO Selections' client engagements in the Puget Sound area since early 2013. His professional career spans over 25 years in finance, accounting, and operations within publicly traded corporate and small closely held settings. He holds a Bachelor of Business Administration degree in Accounting from Gonzaga University and has been with the company since 2007.
Tom Varga will continue in his role as Founder, Management Board Member, and company CFO while also heading up CFO Selections' strategic partnering programs and the firm's philanthropic work through the CFO Selections Foundation.
"I am honored to have the trust and confidence of my fellow Partners and team to help guide CFO Selections into the future," said Briscoe. "Since its founding in 2002, the organization has built a strong brand image which represents the best in accounting and finance professional services. I am convinced that our future is bright and the building blocks are in place for continued success."