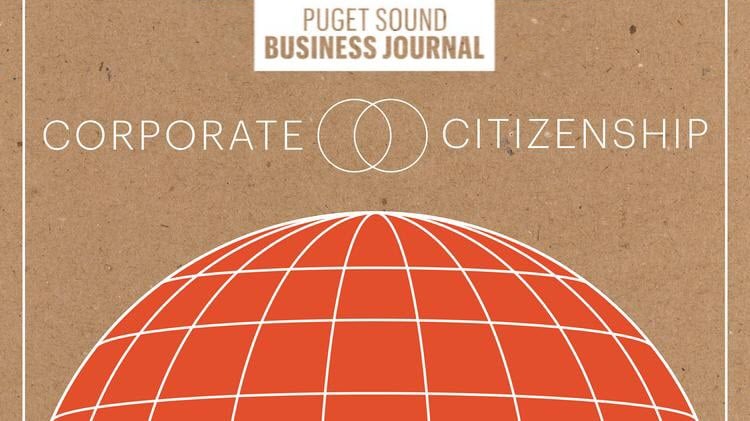 On May 23rd, the Corporate Citizenship and Healthy Community Champion Awards luncheon honored local corporate philanthropists and companies who have made significant contributions, which included CFO Selections.
PSBJ also honored eight companies that create and sustain a "Healthy Community" — or a community built on the strong pillars of the Arts, Basic Needs, Economic Opportunity, Education, Environment, Health & Wellness, Neighborhoods & Communities and Global Giving. Rankings are in the categories of small, medium, and large companies at the luncheon and in the Business Journal Lists.
Congratulations to the 2019 Healthy Community Corporate Champions!
Companies considered for the Healthy Community Corporate Champion Awards must have been in business at least three years. Winning companies must embrace corporate philanthropy as part of the company's culture and impact the community with the giving program and their overall giving (volunteering, in-kind donations and cash contributions) during the previous year must have gone above and beyond.
Also, for the first time, this year the Business Journal is awarding the Humanitarian Award for Corporate Giving. It will go to Blake Nordstrom in memoriam and will annually be given out at the Blake Nordstrom Humanitarian Award for Corporate Giving.
This year the Puget Sound Business Journal recognized the top 75 corporate philanthropists which had a combined cash giving in Washington State of $169.3 million in 2018.
CFO Selections was again honored with a PSBJ philanthropic award.
Our team is honored to be part of such an awesome group of companies who contribute to our community!"
- said Mark Tranter on LinkedIn.
This year marks the tenth straight year CFO Selections has been named one of the top 25 small company philanthropists on the Puget Sound Business Journal's Corporate Citizenship list. We are humbled and grateful to have the opportunity to promote equity and inclusion for the foster children in the Pacific Northwest through our investments of time, talent and treasure. Our clients and consultants make it possible to for us to closely collaborate with the many great nonprofits doing the heavy lifting. We congratulate our fellow list makers and philanthropists and encourage other small businesses to look into what they can do to make their communities a better place to work and live."
- Tom Varga, CFO Selections Founder and Managing Partner of the Valtas Group
About CFO Selections:
CFO Selections provides finance and accounting interim consulting and executive search services to a wide range of organizations in the Northwest. Established in 2002, the company focuses on locating and recruiting the highest caliber senior-level talent available. Its team of consulting CFOs and Controllers work in a collaborative and problem-solving way to generate maximum results.