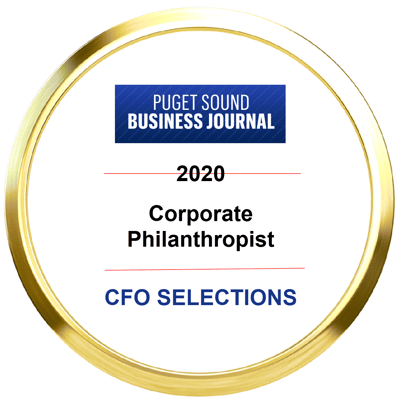 CFO Selections is honored to once again be included in the Puget Sound Business Journal's list of top corporate philanthropists in the region. Each year, the Journal compiles a list based on giving and divides it into three categories according to size, with 25 honorees in each.
Donations counted for the compilation of this list are made without any benefits or advantages received, such as benefit tables or sponsorships. We are pleased to join groups like the Seattle Storm and Molly Moon's Ice Cream, who give back to our community through organizations that are meaningful to our staff and clients.
The 25 companies ranked on the Small Companies List collectively gave $2.4 million in cash in Washington in 2019.
Small companies are those with revenues between $20 million or less. Corporate and foundation cash giving in Washington does not include the value of in-kind gifts, sponsorships, or employee contributions. Information was obtained from firm representatives through questionnaires and could not be independently verified by the Puget Sound Business Journal.
At CFO Selections, we believe it is important to lead with our values and we are grateful to our clients and partners who contribute to our success and help make our support for our community possible.
More About the PSBJ Award
The PSBJ's 2019 award for corporate philanthropy is based on total cash given to Washington non-profits during 2019. In total, the 75 companies recognized by the PSBJ gave away $185.6 million. The donors include companies in three size categories — large, medium, small — based on annual revenue.
Qualified donations for the PSBJ list are made without any commercial incentives and without benefits or advantages received by the donor company. They don't include sponsorships, table purchases, or any other contribution made in return for access to the commercial potential associated with an organization or event.
The full rankings for giving in 2019 within Washington State were announced at PSBJ's virtual Corporate Citizenship event on August 11th. Only those that responded to our inquiries were listed. In case of ties, companies are listed alphabetically.
About CFO Selections:
CFO Selections provides finance and accounting interim consulting and executive search services to a wide range of organizations in the Northwest. Established in 2002, the company focuses on locating and recruiting the highest caliber senior-level talent available. Its team of consulting CFOs and Controllers work in a collaborative and problem-solving way to generate maximum results.