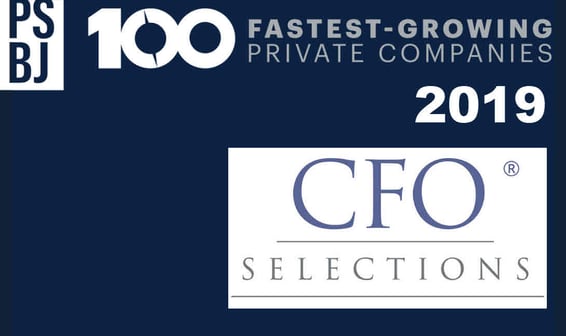 For the 24th year, the Puget Sound Business Journal is honoring 100 Washington state fastest-growing private companies. CFO Selections is proud to be recognized as part of the 100 Fastest-Growing Private Companies in Washington.
31 of the companies on the List showed three-year growth of more than 100 percent. Together, the 100 companies that made the List collectively had revenue of nearly $8 billion last year, an increase of 82 percent over their total revenue in 2016.
"We're pleased to be recognized, and to know we are playing a part in the growth of the region's economy by providing many local companies with excellent finance consulting and executive recruiting services."
- Kevin Briscoe, CFO Selections Executive Manager
Join the Puget Sound Business Journal at CenturyLink Field on Friday, Oct. 25, to celebrate the 100 fastest-growing private companies in Washington. The ranking, along with stories and statistics from the list makers, will be revealed at the event and published in the Oct. 25 edition of the Business Journal.
100 Fastest Growing Private Companies Blue Friday Bash
Friday, October 25th
CenturyLink Field
11:30 a.m. - 2:30 p.m.
Register for the event here.
---
About CFO Selections
CFO Selections provides part-time, interim and project-based finance and accounting consulting, and executive search services to a wide range of organizations in the Northwest. Established in 2002, the company focuses on locating and recruiting the highest caliber senior-level talent available. Its team of consulting CFOs and Controllers work in a collaborative and problem-solving way to generate maximum results.