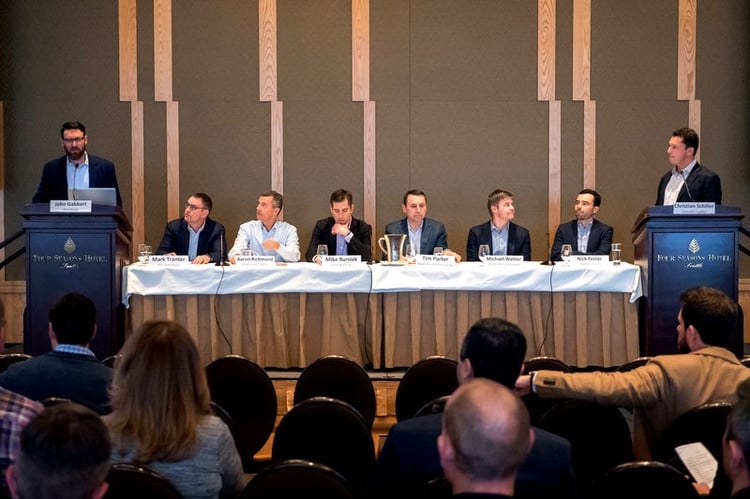 On February 1, 2018, Mark Tranter, Partner at CFO Selections®, participated in the 2018 M&A and Capital Markets Outlook at the Four Seasons Hotel in Seattle, WA.
Corporate executives, entrepreneurs, and business owners heard insights from leading M&A experts about the current state of the M&A market and their predictions for the future, through a panel discussion and Q&A.
Christian Schiller, the Managing Director at Cascadia Capital, was a moderator for the panel event. After the event Christian remarked:
My key take-away was that the outlook for 2018 is strong across the board, and none of the participants see a signal of imminent downturn or bubble. Thus, confidence remains high. Another key point was that the tax reform changes are still working their way through the system, and general consensus was that there should be some positive effects related to M&A activity and valuation but more marginal than transformational."
Mark Tranter, a Partner at CFO Selections shared:
One of the biggest take-aways for the audience is that the M&A markets are strong and the future the outlook continues to look good. I was honored to participate in this panel discussion with such a respected group of experts."
The panel of M&A experts included
(seen in the photo from left to right):
John Gabbert, Pitchbook (Moderator)

Mark Tranter, Partner at CFO Selections

Aaron Richmond, Endeavour Capital
Mike Bursiek, Ernst & Young
Tim Porter, Madrona Venture Group
Michael Wetter, Microsoft Corporation
Nick Ferrer, Perkins Coie
Christian Schiller, Cascadia Capital (Moderator)
More About the Panelists and Moderators:
John Gabbert - Moderator
John Gabbert is the founder and CEO of PitchBook Data, Inc., a research firm that works tirelessly to arm professionals within the global private equity, venture capital and M&A markets with the finest data, technology and services so they can make the most informed business decisions, efficiently.
John has more than 18 years of experience in building information technology products for capital market professionals. Prior to founding PitchBook in March of 2007, he was the Managing Director of Private Markets for Dow Jones & Company, and VP of Worldwide Research for VentureOne, VentureSource and The Private Equity Analyst.
Mark Tranter
Mark Tranter leads the business development and marketing efforts at CFO Selections, which he joined in 2006 after co-owning a successful executive search firm. He organizes, hosts, and attends a large number of networking events, ranging from one-on-one meetings to roundtables, seminars, and forums.
In the ten years before joining CFOS, Mark helped national companies of all sizes with their recruiting needs, including two years spent directing the executive search division of Paladin Partners. He has also had experience in sales management in the cellular industry, notably at McCaw Cellular and NEC America.
Aaron Richmond
Aaron is the Managing Director at Endeavour Capital. He joined Endeavour in 1996. Since that time, he has worked with companies in the transportation and logistics, niche manufacturing / industrials, business services, food and consumer, and specialty retail industries. He currently serves on the boards of ESCO Corporation, USNR, Vigor Industrial, and Willamette Valley Company.
Prior to Endeavour, Aaron was a consultant with McKinsey & Company, principally serving in their operations practice in Cleveland and Hong Kong where he focused on advising manufacturing and distribution clients.
Mike Bursiek
EY Pacific Northwest Markets Leader and Transaction Advisory Services Partner. Serving the PNW helping set go-to-market strategy, market engagement, and building awareness of our solution offerings across all aspects of our business including transactions, consulting, tax, and assurance.
As a Transaction Advisory Services Partner, Mike works closely with clients supporting their end to end transaction support needs including inorganic growth strategies, deal execution (including due diligence), transaction integration, and deal monitoring. Deal execution includes financial due diligence (quality of net assets, quality of earnings, net working capital analysis, business driver analysis, purchase agreement definitions, etc.), tax due diligence, operational due diligence, valuation impacts, IT due diligence, HR due diligence, and net working capital assessment.
Tim Porter
Tim Porter is the Managing Director at Madrona Venture Group. Tim is focused on investing in B2B software companies in the Pacific Northwest. He currently is particularly interested in the areas of B2B intelligent applications and SaaS, cloud native software, ML and data analytics, and security. He is a board member or board observer of numerous Madrona portfolio companies.
In addition to his work at Madrona, Tim is a member of the Investment Committee for the Alliance of Angels Seed Fund I, and also is on the boards of the Washington Technology Industry Alliance and the Technology Alliance. Tim also serves on the Investment Committee for Global Partnerships' Social Venture Fund
Michael Wetter
Michael Wetter is a Director in the Corporate Development group at Microsoft, responsible for execution of acquisitions, strategic investments, joint ventures and divestiture transactions. Michael joined Microsoft's Corporate Development group in 2007 and currently focuses on opportunities for Microsoft's Interactive Entertainment Business, Windows Phone Division and Online Services Division. Prior to joining Microsoft, Michael was an investment banker in JPMorgan's Mergers & Acquisitions group, focused on technology and digital media transactions.
Nick Ferrer
Nick Ferrer is Partner at Perkins Coie LLP; M&A, Corporate Governance. Nick Ferrer focuses his practice on representing active acquirers and investors, including strategics and private equity funds, in their acquisitions, investments and other complex M&A related transactions, and on advising companies evaluating and pursuing liquidity events. His practice also includes providing advice and counsel on corporate governance and securities matters.
Nick's clients include public companies, private equity funds, venture-backed and founder-owned companies and family offices. Experienced across a broad range of industries, Nick has substantial experience in the software, technology, consumer/retail, media, business services and transportation industries.
Christian Schiller - Moderator
Christian Schiller is a Managing Director at Cascadia Capital, responsible for new client origination, channel partner relationships, Cascadia brand and marketing, and mentoring our rising stars.
Christian's career has spanned a broad range of investment banking experiences including sell-side M&A, buy-side M&A, equity private placement, debt placement and strategic advisory work in transactions ranging from $10 million to $4 billion.
His private equity experience includes leading over 75 transactions with many of the leading private equity firms across the U.S. He has a particular expertise in advising family businesses. His industry coverage includes a broad range of experiences in middle market companies in business services, aerospace, manufacturing, technology, healthcare, food and consumer products.
We have a special appreciation for those who make a commitment to contribute at events such as this and look forward to the next. If you are interested in connecting with someone from CFO Selections at a future event, please let us know by contacting us here via a form, email or by phone.