The Nonprofit Association of Oregon and CFO Selections
Collaborate Partnership to Increase Capacity of Oregon Nonprofits
Portland, OR — Today The Nonprofit Association of Oregon (NAO), the sector-wide network representing all Oregon nonprofits, and CFO Selections LLC (CFOS), a Northwest based professional services firm that provides senior level finance and accounting talent, announced a partnership that will allow NAO's members access to CFO Selections specialized nonprofit finance and accounting resources.
Under the new partnership, NAO members will now have a specialized resource to help with part-time, interim and project needs. CFOS is tuned to the unique aspects of the nonprofit community, having gained deep content knowledge in how to choose and deploy senior financial talent over its nearly 15 years in business, both in its consulting practice and its world class financial executive search services, which can be brought in when organizations are ready to hire permanent full time staff.
"We are excited about our new partnership with CFO Selections because it addresses a need of many of our members as they continue to grow but don't want the expense of a full time controller or CFO. When we selected CFO Selections as our partner, we were impressed with their expertise and experience working with nonprofit organizations, understanding both the technical and cultural issues that need to be addressed," said Jim White, Executive Director of NAO.
"CFO Selections is very excited to be working with The Nonprofit Association of Oregon and their diverse group of members. It is our goal to help these organizations achieve their goals in a cost effective manner," said Jeff Dunn, Oregon Partner in Charge of CFO Selections.
For information about NAO or how your organization can work with CFOS please contact Amy Callahan at acallahan@nonprofitoregon.org or 503-239-4001 x103.
About NAO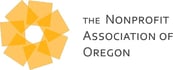 As a statewide membership association support nonprofits in Oregon, the mission of the Nonprofit Association of Oregon is to strengthen the collective voice, leadership, and capacity of nonprofits to enrich the lives of all Oregonians. NAO's vision is that Oregon's nonprofits are visible and valued as essential contributors to our society. Become an NAO member today to receive outstanding, cost-saving benefits! Visit www.nonprofitoregon.org to find out more. Our voices are stronger together!
About CFO Selections
CFO Selections provides finance and accounting interim consulting and executive search services to a wide range of organizations in the Northwest. Established in 2002, the company focuses on locating and recruiting the highest caliber senior-level talent available. Its team of consulting CFOs and Controllers work in a collaborative and problem-solving way to generate maximum results.