Larry Numata, from our CFO Selections® Seattle team, and his daughter Kristen recently attended the 15th Annual Foundations of Science Breakfast. (see photo) Kristen is a wetlands ecologist who got her start at PSC camps and remembers the time she spent at the Mercer Slough. Kristen and many others had the opportunity to experience the hands-on science activities that inspire curious minds of all ages on our campus and throughout the community. They also met members of the Discovery Corps and Lake Washington Watershed Internship youth development programs to learn first-hand about the impact of investments in science education.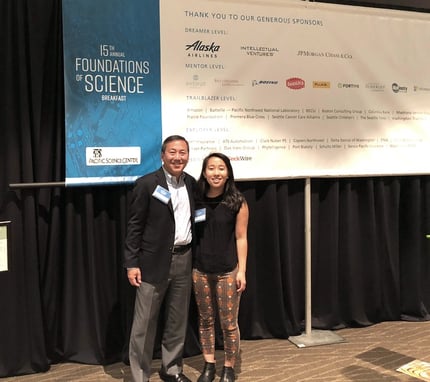 "I appreciated learning about teens gaining exposure to STEM (the majority are girls, I might add) through their Discovery Corps and Lake Washington Watershed Internship Program. We loved the portable planetarium they set up that is part of PSC's Science on Wheels program." – Larry Numata
The Breakfast featured Hans Bishop, Chief Executive Officer of Juno Therapeutics, and Diana Birkett Rakow, Vice President, External Relations – Alaska Airlines.
"Hans Bishop shared a mantra: 'Think Big, Be Brave, Deliver.' …succinct and on point!" – Larry Numata shared.
During a fireside chat they discussed everything from what we can do to prepare the next generation of innovators to the future of STEM research. Juno is pioneering a new kind of cancer treatment that takes a patient's own immune cells, modifies them, and then releases them back to fight cancer.
"Hans Bishop described the immunotherapy work done by Juno Therapeutics, which was fascinating." – Larry Numata
The annual Foundations of Science Breakfast advances the Pacific Science Center's mission to ignite curiosity in very child by ensuring that the innovators of tomorrow have access to hands-on science experiences today. By fueling a passion for discovery, experimentation, and critical thinking, in more than 1 million people each year.
Because of community support, the foundation and event raised over $720,000.
This generosity enables the foundation to ensure that all children and families, regardless of background or circumstances, have access to hands-on science experiences.
Learn more about how to participate or sign up for their newsletter here >