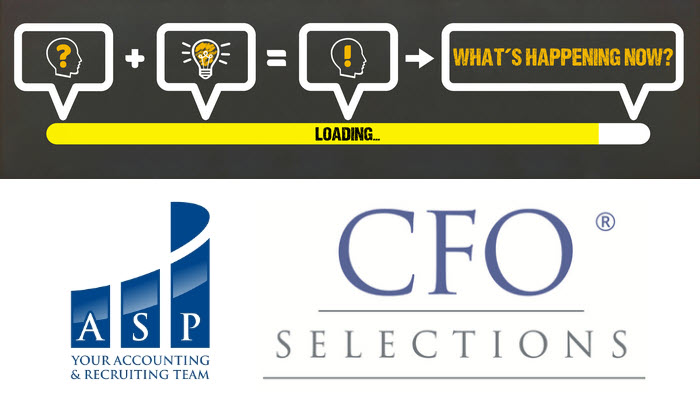 During a difficult period, we want to take a moment to also celebrate successes and recognize excellence.
If you remember, in January we made big changes. We added contingent recruiting services for senior staff to mid-management level accounting and finance positions. This expansion has been led Quinn Finnigan.
We also changed the name in January from Accounting Solutions Partners to ASP, with a new domain name at www.theaspteam.com. ASP continues to provide you with the high caliber accounting and bookkeeping services you rely on.

Today we want to give you a quick snapshot update of our progress. Since kick-starting our new contingent recruiting services in January, we now have 17 job openings listed. In a few short months, we have placed six candidates in positions (and we are just getting started!)
Though there are many openings and a tight labor market, the ASP team can still get you a resource very quickly, even if you have a fractional or interim need.
Much of our success is due to the awesome clients of ASP and CFO Selections. We are grateful for so much support as we launched the new contingent recruiting service.
Other news!
Becky Todd - In addition to being the Western Washington Practice Manager, Becky Todd has taken on the role of CFO of CFO Selections. We are very happy to have Becky's passion and expertise working in an expanded role.
Todd Kimball - Todd Kimball joined the board of the CFOS Foundation. As a Partner with CFO Selections, Todd leads the non-profit practice in Oregon and SW Washington. His background makes him a perfect fit and he has been making excellent contributions to the Foundation. Todd has given us a new perspective into non-profit financial topics which you can read here.
In Washington, CFO Selections was again included on the PSBJ list for Corporate Philanthropy and the Eastside Fastest Growing Private Companies.
In Oregon, CFO Selections was included on the Portland Business Journal's Top Management Consulting Firms, and Corporate Philanthropy list.
In spite of a complicated world during the pandemic, we remain vigilant about being inclusive of our community and communicating with them.
Whether you need an bookkeeper, an accountant an interim CFO or assistance with recruiting a candidate for a full time role, our teams at www.theaspteam.com and www.cfoselections.com are here to help.
If you have something to celebrate, that you are proud of, please share. It is more important than ever to find reasons to celebrate.