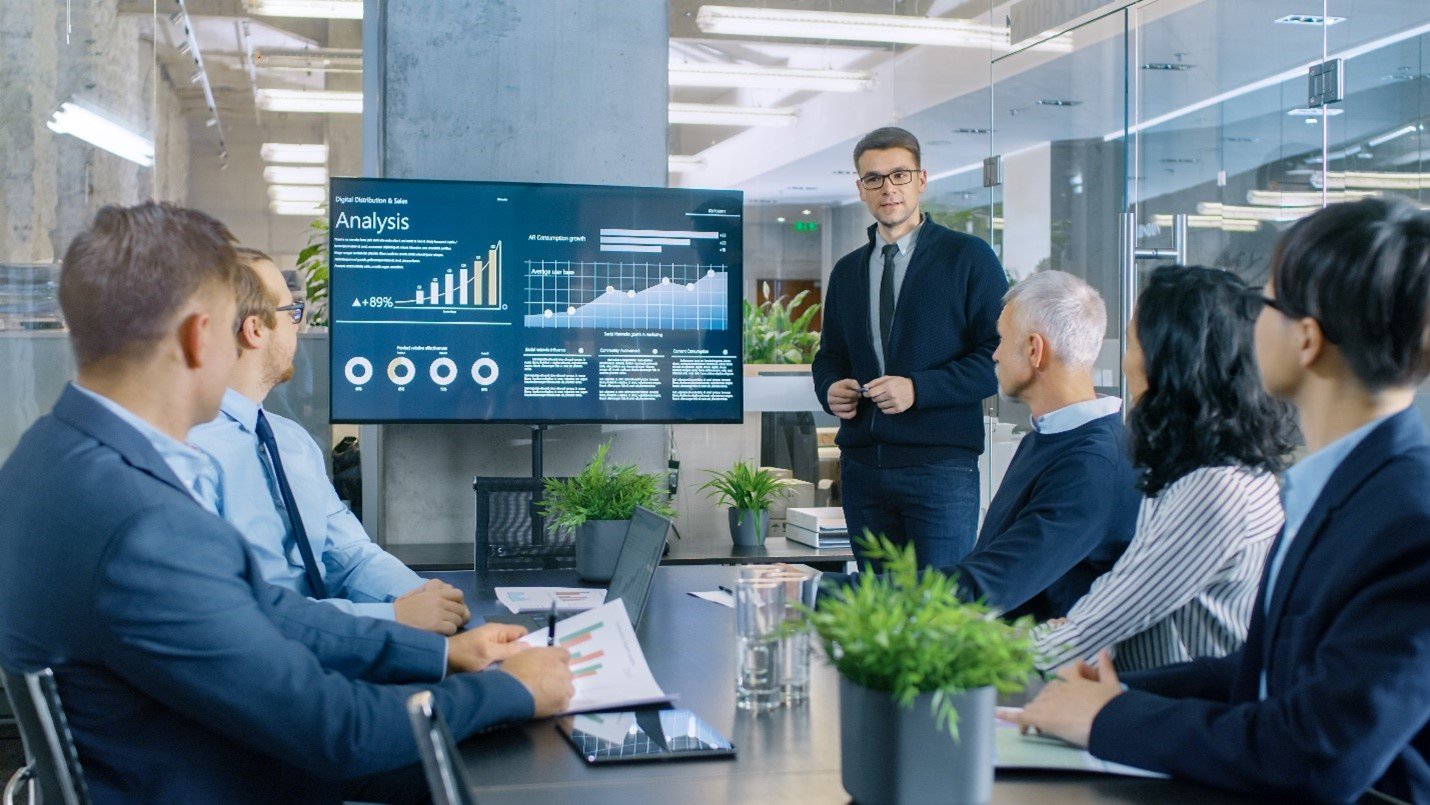 As a CFO you live in the numbers. And like Neo in The Matrix, who can see falling green lines of computer code and read them to construct a picture of the world around him, they make sense to you.
However, when you sit down to present to your CEO, COO, CTO, CRO, CMO, or any other c-suite executive, you need to understand that they may not have the same affinity for numbers that you do. This is especially true when the executive leaders you are presenting to are less financially savvy or new to their roles or the industry.
When "non-numbers-people" see numbers, typically all they take away from it is the numbers themselves. However, when "numbers-people" see numbers, they see the whole picture – the story that the numbers are telling, how the metrics are related, and how they fit into the larger framework.
Knowing how to present to your audience is key in bridging the gap to move the business forward.
Understand their Priorities
When talking about analyzed data Jasmine Gordon explains, "Most members of executive teams may not understand the minutiae of analytics, but they're likely to be compelled by stories that combine data and analytics with context about people and organizations."
Remember, numbers are not just numbers – they mean something. Understanding what they mean to your audience is the best way to get their attention. Focus your efforts on conveying the information that is most critical to them and tells the story you are trying to convey.
Put the numbers in perspective relative to industry averages, historical performance, or any other framework that will provide context.
Whether the message is positive or negative, give it simply and provide the data needed to back it up. Do not get lost in the nitty gritty details– give the high-level overview needed for them to grasp the concept you are presenting and offer to provide additional information afterwards as needed or as requested. If you try to do too much, it will overwhelm your audience and you will lose them.
Make The Data Easy to Understand
Numbers-people like staring at numbers, everyone else likes data visualizations. (And, if you are being honest with yourself, you are probably fond of them too!)
Charts, graphs, and maps not only make data easier to understand, but they also give people something eye-catching to focus on while you are presenting. The result is more focused attention and better questions that improves comprehension.
But when trying to present data effectively Joel Schwartzberg urges us to remember,
A bar graph here, and a pie chart there, and you're off to the races, right? Not so fast. Because while a good presentation includes data, data alone doesn't guarantee a good presentation. It's not the mere presence of data that gives the presenter power. It's how that data is presented... In comic book terms, you are Wonder Woman, and data is your magic lasso — a tool that strengthens your impact but has no value until you apply it purposefully. Don't leave the burden of decoding your data to your audience. It's your job to explain how the data supports your major points."
When you are presenting to the same people regularly, try to remember what types of data visualizations they respond best to so you can be sure to customize your presentation to their individual preferences.
Share in the Right Format
Share reports in ways that encourages recipients to look at them regardless of where they are, when they receive them, or how busy they are that day.
Email both the financial reports and your presentation before the meeting so that meeting attendees can review the material ahead of time or review it afterwards. This is especially crucial when the meeting is being held virtually because technical issues can sometimes cause people to miss parts of a meeting (join late, lose audio, or experience a frozen screen). Sending the information ahead of time ensures everyone will be on the same page regardless of what kinds of technical glitches occur
Depending on the reporting client or data software you are using, you may be able to automatically send report PDFs or share a custom dashboard for easy viewing. Use live links, where available, to give attendees access to the data they want on demand. Streamline your work by making the most of your technological capabilities
Respect their Time
In the same way that you would expect a lower-level finance or accounting professional to put together a concise presentation for you, trim down your presentation to include the most important metrics and leave the fluff out. Focus on your most important points on each slide to avoid overwhelming your audience. As mentioned above, use technology to keep the presentation streamlined and offer exactly what your audience needs to see. If it is unessential, leave it out.
Once your presentation is complete, review it to ensure that it is smooth and easy to understand. Proactively address any data inconsistencies or financial assumptions that may be challenged to keep your presentation cogent. Iron out any wrinkles and try to anticipate the kinds of questions that will be asked so you can preempt them to keep the meeting on track.
Bonus: Make Numbers Commonplace
This is not necessarily a presentation tip but laying the groundwork ahead of time for your presentation will certainly help you when you are presenting on financial matters.
Many offices use a wallboards to keep employees at all levels on the same page when it comes to business performance. TV screens or computer monitors that pull data from Salesforce, Tableau, or other data software can keep everyone in the know, while encouraging the kind of hard work that drives business growth.
Showcasing real-time data publicly in shared spaces gives everyone ownership over the data and acclimates them to seeing the same kinds of figures they will be exposed to in financial presentations. The result is an everyday familiarity with the data that helps them to better understand your analysis of the numbers in future presentations.
Find out how our CFO consultants can benefit your organization by improving your business modeling, forecasting, metrics, and analysis. As the West's premier outsourced CFO solutions provider, we have the right CFOs to provide part-time, interim, or project-based expertise for your company.