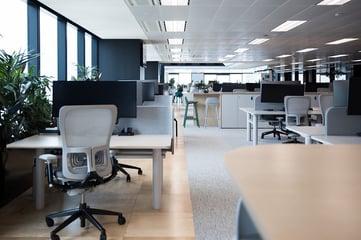 People are asking, "How much office space do service providers need these days?" But perhaps it is more appropriate to ask, do service providers really need office space at all anymore?
Since the shift to remote work, it seems everything from making introductions and generating quotes to signing contracts and conducting client meetings can be done virtually now. With that in mind, many services companies are left wondering if they even need their office space these days. As a result, they are leaning on their CFOs (Chief Financial Officers) to do the cost analysis required to determine if they should keep their existing office space, downgrade to a smaller space, or forgo having a centralized office entirely. Where service providers do retain their office space, a CFO's job is not done. In these cases, service companies are relying on their CFOs to re-negotiate office leases and make leasehold improvements to help improve their cost efficiency in today's tight economy.
To keep the office or not keep the office – that is the question. What should your business do?
When determining whether to keep your office, you will need to address the following questions:
How much do in-office employees cost vs remote employees?
Office occupancy rates are still well below pre-pandemic figures, even as more and more service companies adopt a hybrid work model. One of the biggest reasons employers are wrestling with the question of whether or not to bring employees back into the office is the question of costs around in-office employees versus remote employees.
According to recent data, employers can reduce their office footprint by 40-60% and subsequently reduce overhead costs by up to 40% when implementing a hybrid work model versus having employees in the office full-time. The Global Workplace Analytics Report done in 2021 quantifies this savings as an annual average of $11K per employee that works from home for half of their work week. And that savings is just on in-office overhead costs like utilities and rent. A deeper discussion of the types of savings that can result from moving to a remote work model also includes costs related to:
Relocation packages
Office furniture and equipment
Cleaning services
Food and beverages
Security personnel
Property taxes
And while these figures make a compelling case for having employees work remotely, they do not necessarily consider the cost nuances associated with providing additional perks and allowances that some service companies offer to remote workers. In more competitive industries employers may provide things like technology and office furniture allowances for remote employees to outfit their home offices, regular food delivery benefits, wellness stipends, childcare reimbursement, and other types of benefits meant to mimic the type of environment that the office would provide. Depending on the benefit, some may end up being significantly more expensive to provide to employees on a 1:1 ratio than in a traditional office setting (for instance, paying for individual gym memberships versus all employees having access to a fitness facility near the office where the company can get a group rate).
A CFO will need to analyze the company's specific costs related to in-office and remote work to determine which option, or combination of options, will be the most advantageous.
Are there other costs and benefits of remote work to consider?
While companies will need to discern how in-office and remote work affects their bottom line, there are other factors to consider as well. Aspects like company culture, work-life balance, employee retention, and efficiency will also play a role in determining whether a company should have employees working in the office or remotely.
While these may seem like "softer" costs or benefits, they do have financial implications for the business as well. For instance, data compiled by Global Workplace Analytics indicates that 82% of US employees want to work remotely at least once a week and 35% of employees would be willing to change jobs for a fully remote opportunity. In fact, a 2022 McKinsey study shows that flexible work is the third most common motivation for looking for a new job behind greater pay and better career opportunities.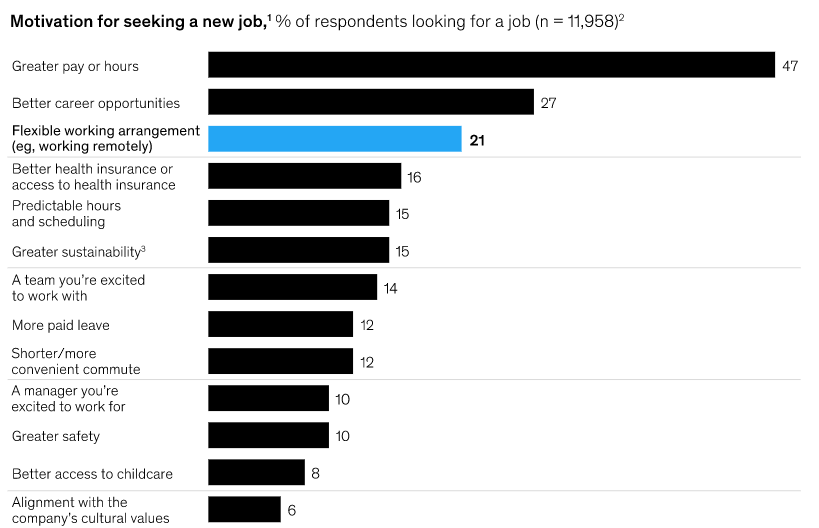 This strong preference for remote work clearly has a strong influence on employee satisfaction and turnover rates. However, increased costs in the form of digital security needs to mitigate cyber risk must also be accounted for when weighing the decision of where employees should be working.
An experienced CFO will be able to help quantify these items to help a service provider make strategic workforce decisions.
What do your customers want?
While the discussion of costs related to having an in-office workforce compared to a remote workforce can apply to any business these days, service providers will need to weigh another factor more heavily than other types of companies – what their customers want.
Unlike a retail company, a service provider is in the business of providing a nontangible offering to their customers and a large part of that offering is relationship management. Whether it is home, business, legal, financial, or any other type of service, service providers will need to meet their customers' needs and cultivate a trusted relationship to be successful. For instance, a law firm or financial services provider may find that their clients strongly prefer to sit down together in the office instead of having a virtual meeting, whereas a remodeling company may find that their clients would prefer to talk over the phone and have design mockups emailed to them. Prioritizing what customers want is a key revenue driver for service providers.
Relying on sales and marketing data can help inform these types of strategic workforce decisions. Ultimately, this data will need to be quantified and analyzed by financial leadership to better understand what kinds of options exist for providing employees with what they want while balancing what customers expect during the buying process and afterwards.
How can you reduce office expenses?
If having employees in the office is important to your customers, but the higher cost of in-office work creates a burden for the company, what can you do to reduce expenses? Rely on your CFO to re-negotiate your office lease or make leasehold improvements to improve your financial position. CFO Dive advises renegotiating lease terms using strategies such as:
Extending your lease in exchange for a reduced rent
Leveraging your tenant improvements
Changing the lease contract to create greater payment flexibility
Comparing your rate to market rates to request an ongoing reduction in rent
Asking for the ability to sub-lease part of your space that is going unused
When you need strong financial leadership without the commitment of a full-time role, a fractional CFO is your best option! Find out more about how our team of consulting CFOs can come alongside your company to offer as much or as little assistance as you need. A CFO consultant can offer the breadth of knowledge that an experienced industry professional has to offer without the steep payroll and benefits costs that a full-time employee would require. Contact us to find out more about our CFO services today!