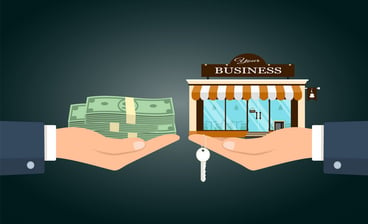 Our CFOs get asked about business exit options a lot, especially these days. Business owners that are looking to step away to pursue other endeavors, interested in cashing out to get the full value of their hard work, or nearing retirement all wonder when they should make their move to maximize their gain.
While last year's expected Federal tax rate increases did not happen, there is still lingering apprehension around the timing of exiting your business. So, though the urgency we witnessed last year has dissipated, the ongoing question still remains: should you sell your business this year, next year, or not at all?
The answer depends on what you are looking to accomplish by doing so. Your motivation will determine not only when to sell, but what you should do to prepare the business for sale as well.
Find out more in our guide on understanding when to sell your business:
The Current Business Landscape
The economy has rebounded since its pandemic-driven slump, putting more cash in the hands of buyers and investors. Pent up demand for mergers and acquisitions (M&A) has led to a rise in business sales over the last year or so as companies gobble up competitors and businesses in adjacent industries and private equity and other investors add to their portfolio of businesses. As a result, deal volume and value increased last year over the previous year with last year hitting record global M&A activity numbers. Additionally, investors are capitalizing on the hot US economy by financing promising companies to bet on the surging entrepreneurship trend that has set record numbers over the last two years.
Subsequently, US business valuations are trending upward, with buyers looking to seize the opportunity to get in on the action. Even small businesses are selling with higher price tags these days, with sale prices up 16% over last year.
For these reasons, now is looking like a great time to sell. However, selling your company is not your only option when looking to exit the business.
Succession Planning Options
Before you decide when to sell, take the time to ask yourself why you want to sell. There are many motivations for exiting your business, only some of which require selling it.
Do you want to make more time for your family by working less or retiring? Do you want to stay on at the company but in a less demanding or visible role? Are you interested in pursuing new endeavors like changing careers, volunteering in your community, traveling more, or engaging in philanthropy? Is it a strictly financial decision?
Once you understand what you want to accomplish, you can put the plan in place to get you there. The plan to transfer ownership of your business may involve selling to a third-party buyer, handing the business down to an heir, selling to a key employee, or selling your ownership stake back to the company. But, regardless of the details, an effective succession plan should accomplish a few key goals, including:
Providing financial security for yourself now and into retirement
Honoring your hard work and protecting the legacy you have built
Maintaining business operations to ensure continuity and continue building value
Minimizing capital gains taxes
Succession plans do not simply outline the specifics of who will assume ownership, they also include key documents and details such as:
A timeline for transferring ownership
A current business valuation based on market conditions
Accurate and up-to-date business financials
Formal business documents like procedure and process documentation, employee handbooks, training manuals, and contracts
Funding information, where applicable
These deliverables can be difficult for business owners to gather and prepare themselves, which is why strong financial leadership is so important when leaving your business.
Preparing a Business for Sale
Often, it can take three to five years to sell your business because so much work is involved in preparing the business for sale before the involved parties ever even come to the table to negotiate the specifics. Even with an experienced CFO at the helm, numerous steps need to be taken to prepare your business for sale regardless of whether an internal or external party will be assuming ownership. When it comes to knowing when to sell your business Ron Carson explains,
"Succession is much more complicated than handing a set of keys to the new owner, whether they're family members or not. There are complex financial, legal and relationship dynamics that must be considered and ironed out. That's why business owners who develop a succession plan well before they're ready to sell the business generally find themselves at an advantage. With a plan in place, you're better prepared when an unexpected offer comes your way, or if unexpected circumstances dictate the timing of the sale, such as a sudden illness, so you're not compelled to sell at an inopportune time."
In the one to three years leading up to the sale of a business a CFO will ensure financial reporting is both accurate and timely to give a precise view of the business's ongoing financial position. This reporting should include:
Detailed P&L statements
Cash flow statements
Detailed balance sheets
Sales and profitability analyses by segment
Ratio analysis
Growth trends
Business-specific KPI's
Ideally, these documents will paint the picture of a thriving company that is ripe for purchase, but when that is not the case, a CFO's job becomes even more vital. Where deficiencies exist, the CFO will be responsible for analyzing and explaining why these shortfalls occurred to provide buyers with the information they need to make an offer and complete the sale.
A CFO plays a pivotal role in helping business owners prepare a company for sale, but their job does not end there. They are instrumental during a transfer of business ownership pre-sale as well as during the sales process and post-sale to find a buyer, conduct due diligence, and transition the company to its new owner.
If you are thinking about selling your business or passing it on to a successor, bring in the financial leadership you need to see you through the transition. A consulting CFO can provide the unbiased perspective and leadership expertise needed to get you across the goal line.
For emerging professionals, think of key performance metrics as the foundation of your analysis.

Whether you're an aspiring manager or a seasoned executive, the KPI metrics outlined in our eBook will provide key insights to better understand key performance indicators.