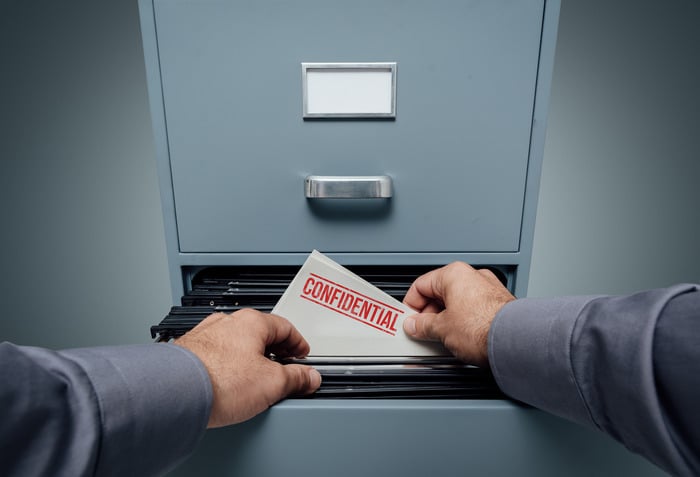 A changing of the guard in a company's top position is a dramatic change for any business, but getting a new CFO is a close second. As with any executive transition, there may be several reasons for the shift. You may be a small company that has just now decided it's time for a CFO, have an executive who is nearing retirement, or has a legitimate issue that prompts the need for a change.
No one likes uncertainty, so it's best to approach a CFO change with as much caution as possible. There are some telling signs that it's time to launch an executive CFO search, as well as advantages and disadvantages to conducting a confidential search for a CFO. Your company may want to consider an interim position, as well as enlisting the help of a financial consultant during this process.
When It's Time for a New CFO
When you are thinking about conducting a confidential search for a new CFO, it's usually because the current one isn't performing up to your standards. It happens. About three years ago, British retailer SuperGroup announced that it fired its CFO after discovering that the executive had gone bankrupt. The company operates 135 clothing stores across the UK and Europe and its CFO Shaun Wills had been in the position for nearly three years.
Even if your CFO isn't leading your company towards financial ruin, you may want to consider replacing them for several reasons:
They're a poor leader. The CFO is one of your company's leaders that will help push initiatives and influence others. If they are simply a paper pusher, it may be time for a change.


They lack experience. A great CFO often needs many years of broad experience to be able to provide perspective in difficult situations. Your CFO may be great in financial analysis but lacks accounting operations knowledge which means your basic accounting processes may be falling apart, more errors appearing in financial statements or it takes longer each month to get financial statements issued. Or you may have financial statements being produced timely with great accuracy, but the CFO cannot explain what the numbers mean in how the company manages its business.


They're resistant to change. Today's CFO role requires agility and adaptability in key business areas such as cybersecurity, social media, and even cryptocurrency.


They lack soft skills. In addition to cranking out reports, an effective CFO must also be able to communicate well throughout all levels of the organization, upwards to the CEO and Board, laterally to their executive team peers, and then to middle management and staff. They must act as a mentor for others in their department.
Why Search for a CFO Confidentially?
When a company feels a need to replace a CFO, there are often several concerns present. Among them are reactions from inside the company, where a pending change in a key position could disrupt normal company operations. Another area of concern may be how the possibility of "not having a CFO" might be viewed from outside the company. You may have suppliers or other business partners that may become worried about being paid or customers that wonder about the future viability of the company. One way to shield the business from some of these challenges is to conduct a confidential CFO search.
The Disadvantages of a Confidential Search
The main disadvantage to conducting a confidential CFO search is that it complicates the process. First, it's difficult to keep a secret in just about any environment, and particularly in a high-stakes hiring campaign. Second, you may face obstacles in attracting the best candidates if you are unable to disclose a lot of information to them in the first communication.
Assuming your company wants to conduct a confidential search and tries to do so in-house, you will face a host of challenges. First, the number of people in your organization who are involved in the search should be limited. People talk and tend to know others within the same industry. If a confidential candidate receives word from a network colleague about their supposedly hush-hush application, they are more likely to withdraw their name from consideration rather than risk their current position.
If you need a high level of confidentiality in your search, you may not want to disclose the name of your company early in the process. This could limit your access to some candidates who are reluctant to throw their hat in the ring without full disclosure. Fortunately, an executive search service can often frame the various aspects of the opportunity and position in a way that makes it attractive without having to mention the company name, if that is your wish.
The Advantages of a Confidential Search
Provided you have a well-planned campaign, there are several advantages to conducting a confidential search for a CFO. Even though the search is secret, you have a distinct advantage when you work with a qualified executive services firm like CFO Selections. Some of the benefits of a confidential search through a financial consulting service include:
You receive help from experienced executive placement specialists.
Your current CFO can remain in their position longer while you conduct your search for their replacement.
You save time by only reviewing resumes and interviewing candidates who already meet your requirements.
You have the chance to attract hard-to-reach job candidates who are not actively seeking a position or who might not respond to a direct contact from your company.
There may be faster turnaround since the Search firm may already have some qualified candidates on file.
Specialized hiring experience will provide your company with strategic advice on interviewing, negotiating, and transition plans.
What is an Interim CFO and What is Their Role?
Your company's CFO is a heavyweight position that likely isn't going to fill overnight. In fact, the typical process could take anywhere from eight to twelve weeks to locate, evaluate, and hire the right candidate for the position. Being without a CFO, or having the wrong CFO, for this length of time could not only produce anxiety but it may also wreak havoc on your company's financial reporting schedule. These are just a few of the reasons that it may make sense to hire an interim CFO during this process.
Your permanent staff will remain the backbone of your organization, but there are reasons why you may want to be flexible and hire an interim CFO when you launch an executive search. Among them are:
Objective Assessment. An interim executive doesn't have a stake in your organization, so will be able to provide you with an assessment of your finances that isn't subject to internal or external influences.


Different Experiences. Depending on your company's industry and culture, you might benefit from having an interim executive in place who can bring a rich set of experiences to the table. They may not be the right fit for a permanent position but could give you some new insights and ideas.


Emotional Time-out. Changes in the executive team can be emotional for all involved. Having an interim CFO in place could prevent potential problems of existing staff disengaging or jockeying for position while you conduct your search.


Stay on Schedule. Paying the bills, forecasting, and reporting your company's financial results are not functions that can be put off while you conduct an executive search. An interim CFO can make sure that you remain on track with these vital tasks.
Often, an interim CFO can provide much-needed support to a company during a transition period. The relationship is most beneficial when a business also wants to make other organizational or process changes. This allows the interim CFO and other executives to make the necessary preparations for the new long-term leadership.
Locating Top Financial Talent Confidentially
Through an Executive Search
Keeping a CFO search confidential while still contacting the potential candidates and sources to conduct the search is a unique challenge. If you have a current CFO that would be better suited elsewhere, you may want to maintain confidentiality while having that chair empty for the shortest period possible.
The professionals at CFO Selections can not only help fill your open position but can also assist with locating an interim CFO while your search is in process. Our team has a wealth of experience with confidential searches for financial positions in a variety of industries. CFOs in the Pacific Northwest know and trust CFO Selections, which ensures quality conversations, though details may be initially unavailable.
When you need to make a change, our specialized services are designed to produce results that will create minimal disruption to your organization and provide you with the financial talent you need to succeed.