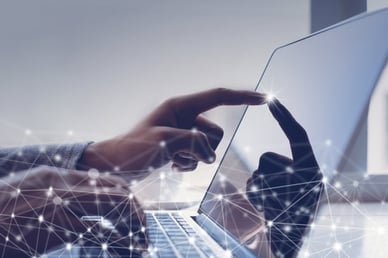 Today's top CFOs are vastly different than their predecessors because the CFO role itself has changed so dramatically over the last few decades. What used to be a strictly numbers-based executive financial role, has now evolved into a pivotal leadership position that touches numerous areas of the company including HR, IT, operations, manufacturing, sales, and marketing. And this sweeping change has ushered in a shift in what is expected of a CFO's skillset as well.
The most salient difference is how today's CFOs are required to utilize technology. CFOs are expected to be well versed in technology options for streamlining operations, meeting business needs, informing strategic decision making, and maximizing growth. As a result, tech proficiency has become the single most newly sought after skill when hiring a new CFO.
With this in mind, it is no wonder that a new article from CFO Dive titled Tech Skills Compete with Finance Savvy in What Leadership Wants in CFOs declares,
"A new breed of CFO is needed as organizations prioritize technology skills along with financial experience... The CFO has become a hub of business information, diversifying their expertise, recruiting the right talent, and ensuring they implement emerging technologies and purpose-driven programs to remove friction and deliver insights. The redefinition of CFO duties means U.S. finance leaders are including in their top priorities the upgrading of technology solutions to drive digitalization, integrating emerging technologies into their company and developing products and services."
In an article from Forbes called The New Essential CFO Skillset Jeff Thomson agrees with this conclusion when he says,
"Traditionally, the CFO was seen as performing two primary roles: custodian of the budget and protector of critical assets. Now the CFO must capture key performance indicators that provide insight and foresight, that will inform the future course of the organization… CFOs are now the stewards of new technology and process adoption, to unlock efficiencies and enhance agility. One trend we see among clients is the expansion of their automation journeys across the financial close process, to free up F&A teams to focus on high-value work that helps the business grow."
Let's dive deeper into why tech skills are critical for today's CFOs and how being tech savvy can benefit every aspect of their careers.
Hiring Advantage
The best candidates for a CFO role will have a close familiarity with all aspects of technology use in their previous roles – ranging from implementation and integration to utilization and optimization.
These days a top CFO:
Has been involved in strategic planning discussions where technology has been leaned on heavily to provide the foundation for organizational success.
Is a wizard with financial data (and may even have a background in FP&A).
Must not only adapt well to change but embrace it.
Dynamic CFOs will be tech evangelists – touting the solutions they have seen work well previously and exhibiting a willingness to try the latest technologies as they emerge. Along the way they will demonstrate an understanding of how to evaluate investments in technology and how to calculate their return.
This kind of tech-focused skillset can be a great differentiator when applying for an open CFO role because global companies are increasingly moving towards increased digitalization, making these skills indispensable.
Greater Role Effectiveness
As Omar Choucair explains when discussing how technology has transformed finance over the last several years,
"Digital transformation has become the definitive gateway for both organizational stability and value creation. Companies that embrace data-driven decision making and standardized, streamlined workflows have options when the world around them changes. And leadership teams rely on accurate, real-time financial information to make business-critical decisions, in stable times and in changing times. It's the role of the CFO to advocate for prioritization of technology adoption, to ensure the data guiding those decisions is timely and accurate."
Since digitalization is a primary focus objective for the vast majority of businesses, it is a key area where executive leadership will need to be well versed. CFOs, like the rest of the c-suite, will need to speak the language of tech transformation and adaptation to collaborate effectively on organizational goals. And where tech savvy does not yet exist, CFOs will need to exhibit a willingness to learn and develop their skillsets to better integrate their role into the rest of the leadership team.
Even when tech implementation is not the vehicle directly responsible for improving growth, the data insights that technology offers can help inform strategic decision making. Therefore, tech prowess allows CFOs to identify opportunities for business growth and seize them more effectively by improving the efficiency of processes, offering better insights, and speeding up the feedback loop.
To put it succinctly, today's CFOs must create business value, not just own the numbers behind the business. Of course, strong financial acumen remains the most valuable skill that a CFO will possess, but tech savvy is a solid second on the list. And in the current market, a CFO cannot be truly effective in their role without having both.
Is your CFO keeping up with the changing business environment? Use this guide to analyze their effectiveness: Is My CFO Underperforming?
Career Advancement
Like CEOs, CFOs have a unique vantage point for viewing the company. They both have a high-level view that allows them to see the ins and outs of the company while making wide-reaching decisions that are, in large part, responsible for the company's success or failure. However, everything they look at will be viewed through the lens of a financial perspective.
When CFOs aspire to make the jump to a CEO role, they will need to take their finance/accounting background and begin to look more broadly at the organization in its entirety. This is where technological familiarity plays an important role.
Tech savvy can serve as the springboard for a CFO to move into a CEO role for three reasons:
Tech expertise makes a CFO better poised to lead an organization because it provides a broader framework for understanding business challenges and informs business strategy decisions. A tech savvy CFO is more ready to tackle the heavy lifting involved in running an organization, including things like setting strategic goals, creating a go to market plan, developing an organizational roadmap, and establishing a hiring strategy.
A strong technical knowledge gives CFOs access to other business areas and teams, making them more visible throughout the company. This increased visibility acts as a ladder up when a CEO's role needs to be filled after a retirement or resignation and the company is looking for an internal candidate who already has a strong familiarity with other areas of the company.
The kinds of tech-driven insights that a CFO oversees and can then share and communicate with the rest of the organization improve their perceived value and credibility with the rest of the executive management team. As such, they may be viewed as the most logical fit when a CEO is unable or unwilling to stay at the helm of the company.
While some CFOs are content to stay on the financial side of the equation, others have higher aspirations to go on to become CEOs someday and will need to leverage their tech familiarity to get them there.
If you need help filling a CFO role, please reach out to us! We offer CFO consulting services as well as executive recruiting services to meet your financial leadership needs. Our team of fractional CFOs and CFO recruiters have the experience required to aid your company in any of the following areas: financial assessment, business modeling, forecasting, data analysis, cash management, treasury, banking, M&A, sale of a business, due diligence, profit planning, restructuring, and staff development. Find out how our team can come alongside your company to improve results!