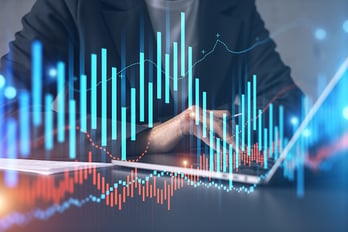 With the US inflation rate still over 6% it continues to dominate business news headlines. And after a recent press release in which the Fed announced they were raising their longstanding inflation rate target from 2% to a range of 4.5-4.75% speculation continues to ensue over what may be coming next. US monetary policy is likely poised to shape these inflationary trends, but the timing and success of such efforts are yet to be determined.
What we do know is that the effects of inflation are being widely felt – both by consumers and by businesses. And while high inflation has affected every industry to some degree, data shows that it is taking a disproportionately heavy toll on the tech sector. Public and private tech companies alike are bearing the burden of soaring inflation that does not show any signs of slowing in the near future.
So, what can the technology industry do to strategically combat high inflation? The following 7 actions are essential for tech companies to weather high inflation:
Conserve Capital
In times of high inflation, it is harder to raise capital. Those most affected by high inflation, like B2B and B2C tech companies, need to find ways to preserve cash. Re-negotiating contracts, adjusting employee benefits packages, budgeting wisely, and practicing disciplined spending are some examples of how companies can conserve capital. An experienced tech CFO can advise on cash preservation strategies to help the business hold onto more of what they have already, so they do not need to worry about trying to secure funding during times when it is not advantageous to do so, like when interest rate hikes are happening to accompany increasing inflation rates.
Trim Costs
Cutting costs can help offset rising labor and materials costs. Leadership should examine their third-party vendor choices and look for places where outsourcing business processes can reduce costs without sacrificing quality. Outsourcing can not only reduce expenses but also convert fixed costs into variable costs, aiding in cash flow management and improving business agility.
Reevaluating supply chains and procurement approaches can also provide cost savings. Optimizing suppliers, buying in different volumes, switching types of materials or components, or changing inventory strategies can help to trim costs in a way that combats inflationary increases as well. With global supply chains disruptions still being felt across most industries, these kinds of changes will likely continue to be essential for years to come.
Improve Productivity
When costs rise, despite leadership's best efforts to curb them, making productivity gains can offset those increases so prices can remain stable. Doing more with less becomes more important the longer inflation remains high (and the higher it rises) in anticipation of potential layoffs. Tech companies can increase efficiency through increased use of automation, AI and robotics, cloud-based programs, and numerous other productivity-driven solutions that can be tailored to their business needs.
Prioritize Agility
Organizational flexibility and an adaptation mindset will serve tech companies well during times of economic uncertainty of any kind. Prioritizing business agility through inventory management, cost restructuring, and other approaches can set an organization up to be better able to respond to market fluctuations and economic volatility.
Additionally, when inflation is high technology providers may want to rethink the design of their products to allow them to be more agile – aiming to move away from hardware and materials that are more prone to supply chain problems and inflationary pressures, where possible.
Act Fast
Tech companies already understand the importance of speed, and they should leverage this familiarity to act quickly when making strategic moves. Using real-time data and making swift, decisive decisions is key to responding to rising inflation and staving off the constraints of the corresponding economic slowdown. However, this does not mean acting rashly. Strategic decisions should not be made without the data and information needed to make them prudently, but they also must not be tied up in red tape.
Raise Prices Strategically
As the cost of labor, materials, and other inputs all increase, tech companies may have no other choice but to raise prices eventually. While management will almost always push back against price increases there are times when pricing changes are necessary. If productivity gains and cost-cutting measures are not enough to negate the influence of high inflation, prices may very well need to be increased. The question then becomes for what and by how much? An experienced CFO can offer the insights needed based on current sales data and cost analysis as well as forecasts and projections to shape pricing decisions. The goal here is to not only weather the economic storm but also position the company for growth on the other side of it by grabbing market share from competitors where available.
Lead Proactively
Regardless of what the path looks, tech leaders need to proactively communicate to lead well through inflationary challenges. They should set reasonable expectations, offer transparency, and remain level-headed with their decision-making. The best CEOs and CFOs will work together – looking beyond inflation to drive the company forward and attain business goals regardless of the economy.
When you need strong financial leadership, look no further! Our team of consulting CFOs has experience in the tech industry to help your company find success in this rapidly changing economic climate. Whether it is combating rising inflation, weathering a market downturn, or preparing for an impending recession, we have the experienced CFOs needed to get tech companies through it and come out stronger on the other side. We also offer financial assessment services to help executive leadership understand how they can improve their companies' financial performance. Contact us today to find out more about how we can use our expertise to help improve your results!