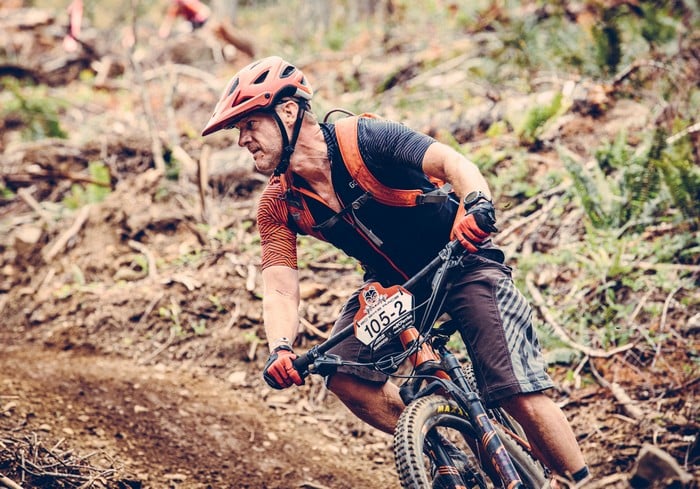 After a year of strategizing, planning, training and stress, my wife, Heather and I participated in the one-of-a-kind 7-day BC Bike Race in beautiful British Columbia.
About the World's Best Mountain Bike Race
BC Bike Race is a seven-day mountain bike stage race from the trail Mecca of North Vancouver and the Sunshine Coast to its conclusion in Squamish, along the way taking in four beautiful BC Ferries trips. BC Bike Race is in its 13th year as a destination adventure. For some of its six hundred participants this race is the culmination of a year or more of training. As a mountain biking goal, it is a lifetime achievement award, a top three on the bucket list, what some people have said is the "best week of my life". What better way to travel than by doing what you love in an amazing location! British Columbia has the most mature trail networks per capita and is rich with one of the highest densities of single-track trails, purpose-built and handcrafted by mountain bikers for mountain bikers.
"We've got this"
Being an experienced mountain bike racer and my wife a professional off-road triathlete, we are not strangers to new challenges. This event was special because we biked the race together as a coed team. But there was plenty of discussion about whether I would have the patience to ride at Heather's slightly slower pace for 7 days straight.
Don't worry – be happy
We decided to approach the race without a focus on the results or standings but instead ride at a steady pace, enjoy the week of riding together in a country with breathtaking beauty. Part of the plan included starting each day with a selfie (and a smile).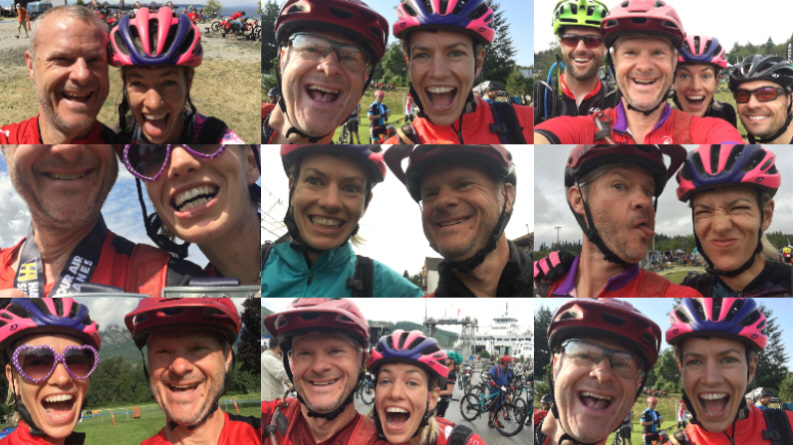 The broken plan
We made a general plan for how to ride the 7-day race, how we would communicate and who would take the lead. The plan served us well for "Day 0" and then it was tossed out the window. This brought to mind the old quote "No battle plan ever survives contact with the enemy." A.k.a. be prepared to adapt.
Broken communication
As we rolled off the start line on Day 1 and rode the challenging single track, I soon realized I was ahead of Heather and struggled to look back to check on her. Communication was difficult and one can't exactly carry on a conversation in such a circumstance.
The disconnected team
Without knowing her status, I raced ahead, passing dozens of riders along the way. I pulled over to wait at the top of the hill and watched the riders go by until I saw Heather. Because she had ~25 riders behind her, I was unable to slot back in behind her until she was well out of sight.
Downhill racer… but
It was time to pick my way through the line of racers between us and catch up. My prize was a STEEP and what they call a REALLY technical descent.
TECHNICAL TRAIL FEATURE (TTF): Any feature on a trail in which the trail is no longer flat and offers additional challenges to the rider or require additional skill to navigate properly. Such technical trail features include drops, rock gardens, and jumps. Other technical trail features may be designed to give the trail better flow or increased speed for the rider, yet also require additional skills to use properly. Berms are a good example of this type of TTF.
Ready to fly down the hill, Heather happily took the lead with a holler. But as I was following her, I was descending at a slower pace than I was comfortable with and my position made it difficult to read the trail well.
Day 1 huddle – a new plan
At the end of Day 1, we talked about what worked well and what changes were needed to achieve our goal of having an enjoyable event together. We made a new plan of how we would ride together, who would take the lead.
Day 2 – Whoop whoop
As we rode, communication was still an issue. Just yelling "Are you ok" wasn't going to work, because other racers might think I was asking them, and I would get 12 replies. We needed a solution that would be fun. I tried yelling "Marco" thinking Heather would respond "Polo," but I got something like 42 "Polo" responses from everyone in earshot. Finally, we came up with a simple call: "Whoop whoop!" If I lost sight of her and wanted to know where she was at and that all was well I'd yell "Whoop whoop" and if all was good she would reply in kind. We began to communicate, have fun and each descending at a pace that was fun and comfortable for both of us!
We then added another element to our rudimentary communication. When Heather responded to my "whoop whoop" call, she would add a number if there were any riders between her and me. "Whoop whoop 2" meant I was expecting two riders to come by me, then I could anticipate and jump in and be in front of Heather again.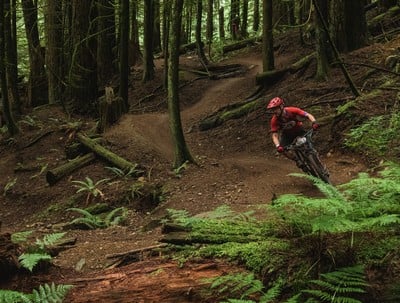 Day 3 – Danger
We encountered our same issues. Namely, my expectations and plans were in danger of not being realized which made me more anxious, impatient and unkind. Everyone said the next stop at Powell River was the best on the route with camping right on the beach, great food and beautiful sunsets. There were two types of finishers.
The first 300 that day would be on an early ferry, get the best tent, time on the beach and sunset.
The second 300 finishers would wait for the next ferry, no dinner on the river, no sunset and setting up late.
I REALLY wanted to be on the first ferry, but my wife and racing partner was more easy-going and thought either ferry would be fine. As the miles went by I saw our chances of making the first ferry slipping by as riders who we had been beating were passing us. I was growing increasingly anxious, impatient, frustrated and ultimately, angry. There were indications that Heather and I were not in sync and my patience broke. I forgot our original agreement and goal of "ride at a steady pace, enjoy the week of riding together in a country with breathtaking beauty."
There was a moment Heather was riding past the mechanic at the aid station and he noticed something loose on her bike, so she stopped while he tightened it and a few other bolts that had shaken loose. It was a completely necessary, appropriate stop but my focus on "1st Ferry" triggered thoughts and words I later regretted. It reminds me of: "Seek first to understand, then to be understood" in the book by Stephen Covey, 7 Habits of Highly Effective People.
That day we finished 298th and 299th and made the first ferry! We had a wonderful afternoon and evening and I reset my expectations and attitude.
A rhythm
The following days we really settled into a comfortable pattern; pacing, communication, checking in, smiling, enjoying the journey, enjoying our time together, connecting with other racers and overall just having a wonderful time.
The last day was long with some of the most technical riding of the race. We continued to execute on our, now well-honed, strategy and had a great day on the bike.
The high
Even though we had been out for many hours that day, as we neared the finish line I started feeling really emotional. Partly because I was having such a great time that I didn't want it to end. Partly because I was just so incredibly proud and in awe of my wife for how strong and confident and amazing she is! Partly because I was thinking about what we had accomplished together in challenging conditions and how it will become the beginning of a new journey! We crossed line holding hands, smiling, more in love than ever!
The numbers
Because I'm a data-driven finance professional… here it is by the numbers:
Total miles: 196
Total elevation gain: 27,152 feet
Total time on bike: 25 hours, 53 minutes
Total calories burned: 13,705
We were "winners"
We placed 4th place in the coed team division. I am certain we placed first in that division in terms of amount of fun had!
We recorded a special moment at the beginning of each day with a selfie to serve as a reminder "keep smiling."
Watch the video:
What did I learn?
Relationships - Don't lose sight of the value of relationships (vs the first ferry).
Communication – It is critical to find creative ways to communicate.
Patience – "Patience is the companion of wisdom." - Saint Augustine
Support, Encouragement, Compassion – Each of us will go through rough times whether it be as individuals or together.
The Journey! - Be mindful of what matters. (It may not be what you think.)
The Ups and Downs – Have fun, though it can be scary at times.
Positive Communication - "Communication is a skill that you can learn. It is like riding a bicycle or typing. If you are willing to work at it, you can rapidly improve the quality of every part of your life." - Brian Tracy
Check in Often – While it is a part of communication, frequent checks ensure alignment of expectations and goals.
This is an important experience and story to share because we often lose sight of what matters and why we commit to the work. Maintaining objectivity, maintaining empathy and understanding what is possible often contradicts what is practical. Pursuing dreams in business (or to ride in the "World's Best Mountain Bike Race") should not result in regrets later.
About the Author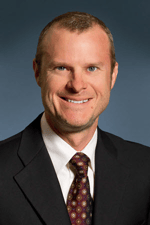 Jeff Dunn is a Partner with CFO Selections, serving as the Practice Manager for the Oregon & Southwest Washington region. Jeff has led the practice since establishing it in 2013. During that time, he has also served as an outsourced CFO to clients in the emerging tech space, manufacturing, distribution, digital media, and marketing industries.
Prior to joining CFO Selections, Jeff was the CFO of Getty Images, a global digital media company. During his tenure there he participated in numerous acquisitions, including taking Getty private in a PE backed transaction. Prior to joining Getty, Jeff was the VP of Finance for an ecommerce start-up, and in the Corporate Controller group at Tektronix. He began his career in Audit and Assurance at Deloitte.
As he leads the Oregon & SW Washington Practice, Jeff's extensive experience in business leadership, strategy, and finance has enabled him to quickly understand and assess each client's unique needs and develop strategies for the CFO Selections team to add value to each engagement.
Outside of CFO Selections, Jeff can be found in the mountains on a bike, on foot, or on skis. An accomplished mountain bike racer, Jeff volunteers his time and talent as Treasurer for a nonprofit trail advocacy group and leads beginner skills clinics and group mountain bike rides, sharing his passion and knowledge with others.