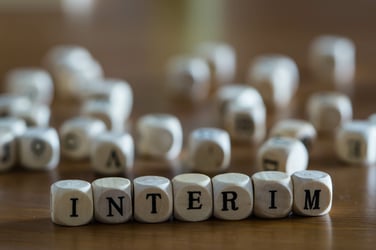 When a key employee leaves, hiring a replacement is of paramount importance. But when it is going to take considerable time to find the right person to fill the vacant role or a hired replacement cannot start right away, an interim hire is used to bridge the gap.
So, who do you turn to when you need help with interim employment?
Hiring managers may ask, "Does it matter who we bring in to help us hire an interim position, anyways?" and "Do we need to spend much money to hire someone that we only plan on keeping around for a short time?" The ubiquity of staffing companies makes them an attractive choice for inexpensive hires in individual contributor roles. But what about interim executive leadership roles?
A role like the CFO position needs to be filled with an experienced professional who is ready to lead the organization. As CFO Magazine explains,
"Leadership voids are particularly perilous when it comes to the CFO position. CFOs are the ultimate utility players in an organization — they're captains of detail orientation. They need to seamlessly interact with all parts of the company to gather and disseminate information. At the same time, they need to be a strategic thought partner with the CEO. Having this seat empty can cause the best of companies to stall. Interim CFOs keep a company in a safe pair of hands. They provide stability by offering critical financial reporting and business intelligence and moving key projects forward. Interim CFOs enable proactive companies to keep the momentum going. They also, maybe most importantly, allow them to take their time to find the right next full-time finance chief (vs. rushing to hire whoever is available at a moment's notice)."
The importance of the CFO role begs the question, do professional services firms provide an advantage for these types of hires? What sets them apart from staffing agencies? And do these advantages justify their premium pricing?
Staffing Firm Have Different Strengths
Staffing firms are known for their ability to supply a large quantity of candidates quickly. They also reduce business liability and expenses by allowing companies to outsource their hiring rather than handling it in-house. The subsequent savings that result from not having to pay benefits costs, payroll taxes, and other employment expenses also improves cash flow.
However, for higher-level roles, staffing firms may not the best fit because their recruitment processes can be rushed, and their organizational awareness can be limited. As a result, their placements can fall short, especially as you move up the corporate ladder when the right fit for the role becomes even more important. Executive roles, regardless of the length of tenure, require a precision touch.
The Professional Services Firm Advantage
A professional services firm is a better choice for executive roles, even when those roles are interim positions, because of the caliber of professionals they can deliver. They will provide candidates with:
A proven track record of success
Relevant industry experience
Strong analytical and communication skills
A success mindset
Situational awareness
Passion for their work
A good cultural fit
Professional services firms will also practice discretion throughout the process to keep your search and your needs private.
How to Hire an Interim CFO
A position as important as the CFO role should always be filled by a highly capable, experienced professional no matter how long you intend to have them there because the risk of inserting just anyone into the role is too high. Furthermore, interim CFOs are typically in the role for less than a year, which means interim CFOs must hit the ground running, instead of taking time to ramp up or trying to learn on the job.
To hire an interim CFO, a professional services agency will work with the hiring company to understand their needs and gather information about the specifics of the role, including:
Short and long-term goals
Current challenges and opportunities
Key accounting and finance information
Team dynamics
Afterwards, the agency will match an experienced professional with the company's needs to get the right executive into the interim position.
A CFO may be needed on a short-term basis for a wide variety of reasons ranging from health issues to termination, but regardless of the reason, an interim CFO will provide critical functions like modeling, forecasting, analysis, cash management, banking support, profit improvement planning, and much more.
When you need to hire an interim CFO or interim controller, reach out to us for more information on how we can help with the process. As a professional services firm, we use our skill and knowledge to assist with finding and placing the right candidate for your organization.