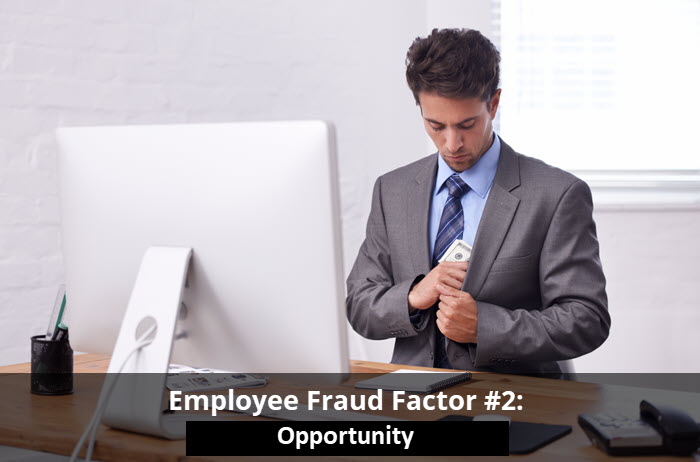 This is part 2 of a series on the causes of a perfect fraud scenario. Read "Employee Fraud Factor #1: Pressure" here.
In case you missed Part 1, there was once a really smart guy, Donald Cressey, who created a theory that said: "If three factors were met, any ordinary, trusted person could bring themselves to commit fraud."
In other words, given the right situation (or perhaps wrong situation), anybody could commit fraud. Not just criminals, not simply "unethical" people, and certainly not just somebody ELSE's accounting staff.
The three factors include:
> Pressure
> Opportunity
> Rationalization
In Part 1 we talked about the first factor, Pressure, and how a person with an apparently SECRET financial problem might feel no other option than to steal company money. They are on the prowl for just the right opportunity!
Opportunity
The second fraud factor is that a person has a perceived opportunity, or available method to commit the crime. Furthermore, it is critical that this fraud method can be performed without being caught (or so they hope). In other words, a person with the first factor – secret financial problems – isn't going to keep a secret very well by robbing a bank. So, bank robbing isn't a good opportunity.
Scenario 1
A bookkeeper opens the mail, deposits the checks at the bank, records customer receivables into the accounting system, and performs accounts receivable write-offs.
> In this scenario, the bookkeeper may find it WAY too easy to steal incoming customer payments.
Scenario 2
An accounting manager controls access to the blank checks, serves as back-up bookkeeper, and performs the Bank Reconciliation.
> In this scenario, an accounting manager may find it much too easy to write checks to anyone of their choosing, including themselves.
These are prime examples of embezzlement opportunities for a bookkeeper to 'solve' all the pressure from their secret financial problem.
Two Things YOU can do
Implement proper theft prevention and detection control steps. You need to remove the opportunities to steal by setting up things like segregation of duties and ensuring the bank statement is reconciled timely by an Owner (or employee outside all accounting functions).


Create the Appearance of Big Brother. If your employees think you are watching their every move, they are much less likely to try something. After all, they don't want to get caught and go to jail! Consider these two options in a retail situation:



An exhaustive cash register review process, behind closed doors that the sales agent is unaware of, or


The two security cameras he sees pointing at his register, with red lights flashing.
An in-your-face security measure is always better than a secret one. Or how about this example: Have your Bank Statement sent directly to your home address, and tell your office staff you've done that and why! This will deter most employees from trying anything at all.
(Disclaimer: If you only setup a bunch of smoke and mirrors as theft prevention tools and an employee does try something, you'd be in trouble. You DO actually need to implement real controls as suggested in Part 1.)
This fraud factor, Opportunity, is the one you have the most control over. You can remove the opportunities for embezzlement in your company.
In Part 3, we will review the third factor "Rationalization".
If you found this helpful,
sign up to get the next update and get CFO's Perspective sent directly to you.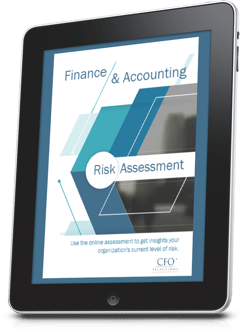 A financial risk assessment can make all the difference for your business. Preparing to take advantage of opportunities and eliminate potential landmines makes good business sense.
Get instant access to our free finance and accounting risk assessment!
Contact CFO Selections® now with any questions about our services.

About the Author
Todd Kimball is a senior accounting professional with over 15 years of expertise in the nonprofit and government sectors. He has a proven track record at tackling the most challenging nonprofit accounting issues and finding solutions that work and move organizations forward. He excels at creating process efficiencies, motivating and utilizing staff to their full potential, implementing internal controls, and providing sound technical expertise. Todd focuses on the big picture but doesn't hesitate to dive into the details.
More about Todd here:
www.cfoselections.com/consulting/team/todd-kimball