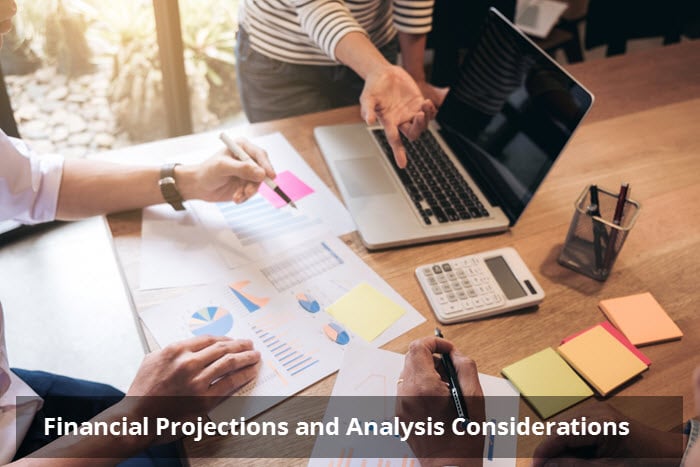 An important part of the business planning process is the preparation of financial statements to predict the outcome of an organization's results in future periods.

Financial projections are based on compiling the internal and external accounting data you already use in the day-to-day management of your business. By projecting your revenue and expenses, you can get a more accurate view for how successful your business can be. Creating financial projections is not an easy task but is a very important part of developing a sound strategy. The financials tell you what goals to keep and what to cut.
Projections can also be a guide to help your business grow without running out of cash. To generate and support additional revenues, additional cash is always required. Financial projections help you assess what additional assets are needed to support increased revenue and the potential impact on your balance sheet. The projected financial plan indicates how much additional debt or equity you need to remain solvent and healthy.
If your business has been in operation for more than a year, creditors will not only request data on your past performances, referred to as historical data, they will also ask for financial projections. Creditors typically want these types of information for the past and future three to five years. Depending on how long you've been in business, it could be more… or less.
Financial projections should include a forecasting of the income statement, the balance sheet, and the cash flow statement. Projections are made by the month for the first year and then by the year for the next two years.
Developing financial projections for your expanding business can be complicated. To make it less overwhelming, our expert finance team can provide the information on required financial statements every business plan should have.
Financial Projections Accounting Services
All businesses, whether startup or growing, will be required to supply prospective financial data for creditors or investors. CFO Selections' team develops financial projections, determines effective resource allocations and sets clear objectives. Here is a list of important financial statements we include with financial projections:
Historical Financial Data
For Established Business
If you own an established business, we help you to meet creditor requests for historical data related to your company's performance for the last three to five years, depending on the length of time you have been in business.

Typically, the historical financial data to include are your company's income statements, balance sheets, and cash flow statements for each year you have been in business (usually for up to three to five years).
For Startup Business
Many entrepreneurs complain that building accurate revenue and expenses forecasts requires too much time that would be better spent selling rather than planning. Unfortunately, few investors will make a financial commitment if forecasts are unavailable.

We can help you determine your financial requirements for your startup and develop a more efficient planning and cash flow forecasting for budgeting, including operational and staffing plans.
Future Projections
Creditors and investors will also want to see the prospective financial data that reflects expectations of revenue and profit.
What our financial experts can do for you:
Forecast income statements, balance sheets, cash flow statements and capital expenditure budgets for each year you've been in business.
For the first year of business, we include monthly or quarterly financial projections. After the first year is recorded, quarterly or yearly projections will suffice for the next four years.
We ensure your projections match funding requests so there are no inconsistencies. We can help to explain any assumptions that accompany your projections.
Our expert CFOs will write an analysis of your financial information. This analysis can include ratio and trend analysis along with charts and graphs for a visual overview.
The CFOs at CFO Selections are well-qualified to assist you with your financial plans. The financial forecasting and projecting process begins with our focus on understanding your specific long and short-term needs, and goals. We can then perform a thorough analysis of your financial situation and provide recommendations and projections. Contact us here >