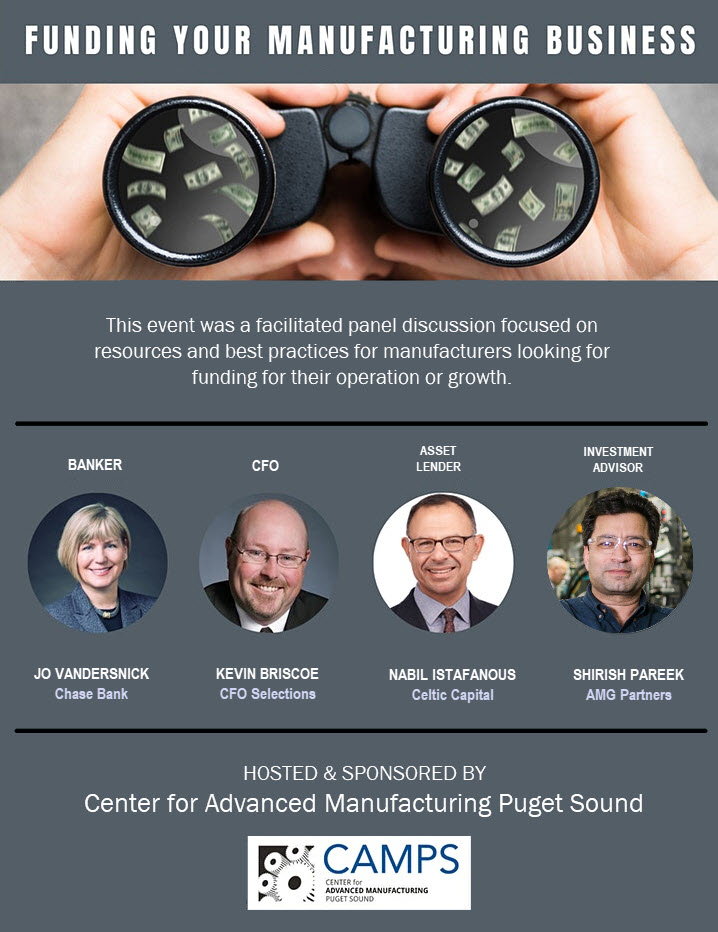 To grow in the new market environment, manufacturing companies require funding. To help you better understand the options, CAMPS hosted a panel to cover multiple funding options:
CFO Selections is a proud member of CAMPS and our own Kevin Briscoe recently participated in a panel discussion at a CAMPS event: "Funding your Manufacturing Business."
If your manufacturing company is growing, listen to the insights and options shared by the panel of financial specialists.
The Moderator
Kirk Davis – moderated the panel discussion. Kirk is the Executive Director of CAMPS (Center for Advanced Manufacturing Puget Sound) is the leading manufacturing community in Washington State. CAMPS supports manufacturers to adopt the leading-edge of automation, innovation, continuous improvement, industry 4.0, and robotics.
About The Panel of Speakers
Shirish Pareek
https://www.linkedin.com/in/shirish-pareek-57a642/
https://www.amgrowth.com/
Shirish is the founder, and Managing Director of AMG Partners, a permanent capital fund he founded to make growth and buyout investments in advanced manufacturing and accelerate the growth of the U.S. Advanced Manufacturing companies globally.
He has served on the board of Carnegie Museum of Art in Pittsburgh, PA, First Voice International, Compatible Technology International in St. Paul, MN, and Indian American Council. He currently serves on several boards including McClarin Plastics in York, PA, DMI Industries in Pittsburgh, PA, and Washington DC/Baltimore Chapter of Young Presidents' Organization.
Shirish served on the United States Presidential Manufacturing Council under President Obama and Commerce Secretary Penny Pritzker initially as a council member and in the second term as the Co-Chair for Workforce and Skills Sub-Committee.
Nabil Istafanous
https://www.linkedin.com/in/nabilistafanous/
https://www.celticcapital.com/
Nabil is an experienced lawyer and former Chief Compliance and Ethics Officer with over 20 years of professional experience in the healthcare industry.
Before joining CCS, Nabil was the Chief Compliance and Ethics Officer at Group Health Cooperative (Seattle, WA) and previously served as Vice President of Compliance and Ethics for Premera Blue Cross (Mountlake Terrace, WA), where he was both the Chief Compliance Officer and Privacy Official. Nabil also served as in-house legal counsel for government programs at CareFirst BlueCross BlueShield in Washington D.C., and an associate lawyer at Crowell & Moring LLP in their Washington D.C. government contracts and health care groups.
Celtic Capital specializes in providing asset-based financing from $500,000 to $5 million for manufacturers, wholesalers, distributors, and service providers throughout the United States.
Jo VanDerSnick
https://www.linkedin.com/in/jovandersnick/
https://www.jpmorganchase.com/
With over 16 years at JPMorgan Chase, Jo is the Executive Director of Executive for Middle Market companies in the Seattle area. She is focused on Commercial Banking that provides credit, treasury, and depository services. Jo serves as a CAMPS Board member.
For over 200 years, JPMorgan Chase & Co has provided innovative financial solutions to their clients in 100 countries around the world.
Kevin Briscoe
https://www.linkedin.com/in/kevin-briscoe-cfos/
https://www.cfoselections.com/
Kevin Briscoe's professional career spans over nearly 30 years in finance, accounting, and operations in publicly traded corporate and small closely held settings.
Kevin was a Principal, COO, and VP of Finance for Pacific Lighting, helping drive their growth from $30 to $70 million. He served as a financial member of South End Equities, where he was responsible for the purchase and management of over $6 million of commercial real estate.
CFO Selections brings the best senior financial and accounting talent to your business.
About CAMPS
The Center for Advanced Manufacturing Puget Sound (CAMPS) empowers Washington State manufacturers to succeed through networking connections, innovation, workforce development, supply chain positioning, and business development.
We are an advanced manufacturing community that brings together manufacturers, supply chain partners, technology partners, pre-qualified business development specialists, and strategic partners.
CAMPS is a not-for-profit membership organization representing small and mid-sized manufacturing businesses working through strategic partnerships in the region.
About CAMPS Value Proposition:
The value of a CAMPS membership lies in the power associated with being part of a community of manufacturers, supply chain partners, business advisors, and strategic partners, all working together. CAMPS provides the connections to establish business relationships among members, share in a culture of innovation, and create supply chain development opportunities in emerging industries, technologies, and processes.
Learn more about CAMPS:
https://www.camps-us.com/
https://www.linkedin.com/company/the-center-for-advanced-manufacturing-puget-sound/