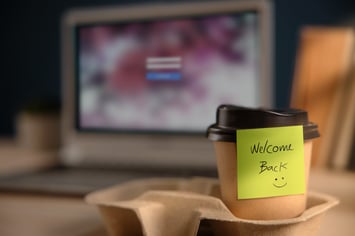 Employers that want their employees back in the office again are asking themselves the question, "How do I get my employees to return to work?" However, many employees are asking their employers, "Why should I return to work?" in response.
The resulting dichotomy has created a sticky situation for companies that are facing labor shortages and revenue challenges well over a year and a half into this crisis. For key departments like accounting and finance, the pressure is further elevated because these kinds of skilled roles are a hot commodity right now, making them even harder to replace.
As a result, employers may feel pressured to bend to employee demands regardless of their individual or team desires. But the question of when and how to bring employees back does not need to be adversarial in nature. In fact, it should be an open dialogue rather than a policy mandate. When employees are included in the discussion, they are encouraged to share their unique perspectives, making them feel more respected and more likely to buy-into the resulting decision.
Listen Before Acting
What are accountants looking for in a work environment these days?
Getting key personnel back hinges on giving them what they are looking for in a work setting. Some may want private offices instead of open workspaces and other types of physical modifications to the work environment to keep them safe. Others may want a mask mandate in place and reasonable efforts for social distancing. Still others may only want to return if employees are required to be vaccinated. On the other end of the spectrum, some accountants may not want to return to the office if those kinds of policies or requirements are in place.
Broadly speaking, most accountants just want what every other office worker wants – autonomous flexible work options and a better work-life balance. Remember, everyone is different! Just because "most accountants" want something, does not necessarily mean that your accountant does.
And that does not even begin to cover individual needs. An immunocompromised accountant may need stricter health protocols to return to the office, while an accountant dividing their time as a homeschooling parent or caregiver for an elderly parent may need to have a more flexible work schedule to accommodate their important personal commitments. Remember that COVID has drastically changed how some people can work and employers need to be sensitive to these changes if they are going to retain their financial staff.
As Jack Kelly explains in an article on the current state of work,
"The companies and managers who intelligently navigate the new era by treating their employees with dignity, respect and empathy will win the war for talent. The executives who smartly ask their employees what type of work style is best suited for them will win over their trust and confidence. If managers implement flexible schedules, four-day workweeks or remote and hybrid options, it will greatly help retain and attract top talent. If companies are unyielding and demand workers to go back to the previous pre-pandemic worklife, they're tone-deaf decision will push people to quit en masse and join more understanding organizations."
Engage in open dialogue and really listen to what your accountant is looking for and determine how you can meet their wants and needs in the best way possible for the business overall.
Tailor Benefits
If employees are resistant to come back, you may need to sweeten the deal for them. Offering things like pay raises and in-office perks can tip the scales for accountants who do not have a true need to remain at home.
If working remotely is just a perk that your accountant is enjoying, perhaps they would be willing to trade that for another perk like:
Bonuses
Gym/fitness membership
Shortened work week
Provided meals
On-site massages
Increased vacation time
Paid time off for volunteer work
Charitable giving matching
Childcare reimbursement
Relaxed dress code
Educational opportunities
Where perks are offered as incentive to get your financial personnel back in the office, consider the social cost of providing a benefit to some teams that you do not offer widely to all employees. Avoid damaging your company culture by tailoring perks to experience level or other differentiating criteria to encourage performance rather than breed toxicity.
Obviously, you will need to weigh the costs of these perks against the cost (either real or perceived) of having your accountant stay at home. If there is a true business case to be made for having your accountant on-site, use that information to evaluate what it is going to cost to achieve that objective.
Understand When to Acquiesce
With workers quitting their jobs in record numbers back in April, economists dubbed the emerging labor phenomenon "The Great Resignation." As employees left their roles in search of higher salaries, more flexibility, and a better work-life balance, business owners collectively held their breaths as they tried to ride out the tide of turnover. However, more than six months later, the job market remains tumultuous.
In fact, recent survey data reveals that a whopping 65% of U.S. employees are looking for new jobs. To compound matters, the current business challenges and an ongoing lack of graduates have made financial personnel even more valuable than they were pre-pandemic, driving up demand for experienced accounting and finance professionals.
That means that your accounting and finance employees (especially your top performers) have options if they are not satisfied with what you are willing to offer. In some cases, employees are not willing to compromise on their employment expectations. As a result, you need to understand that your accounting or finance staff may not want to come back to the office regardless of how much you want them to, and if you do not want to replace them, you may need to acquiesce.
If you need help retaining key employees, check out Jen Girard's helpful article 8 Strategies to Hold onto Your Most Valuable Employees Post-COVID for actionable tips.