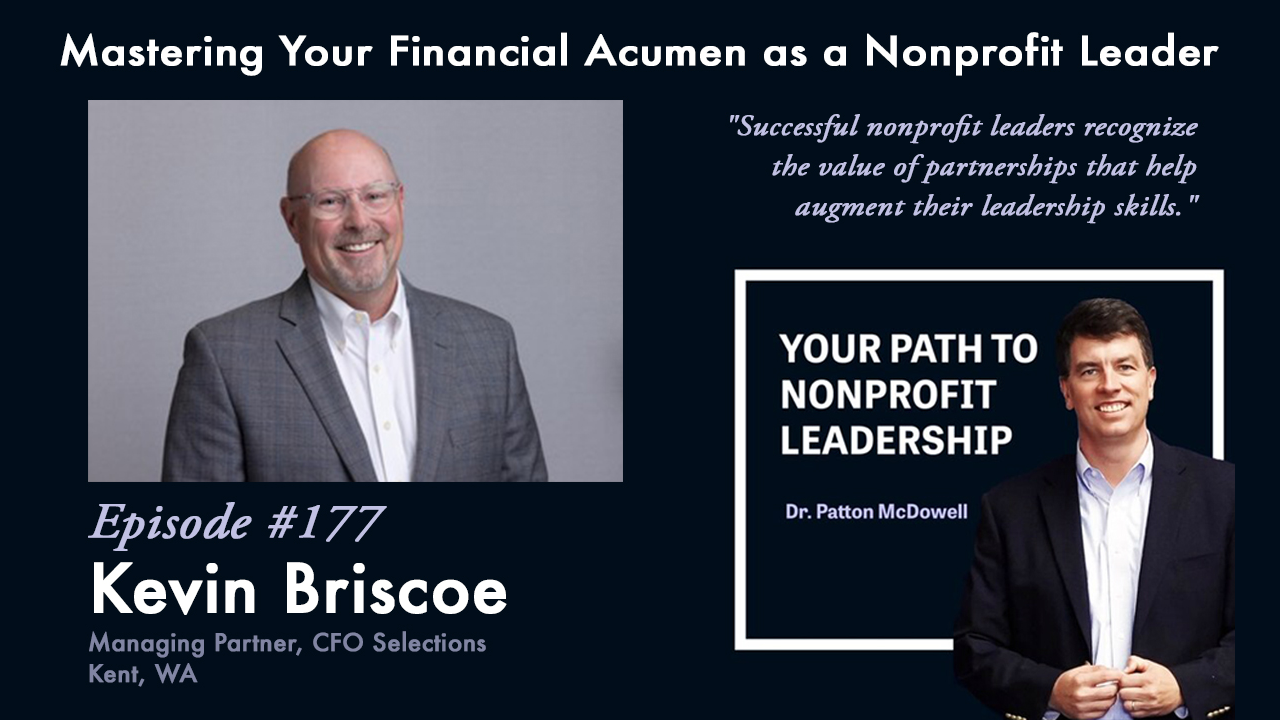 Is your organization positioned to navigate the unique strategic and financial challenges inherent in nonprofit settings? As a nonprofit leader, do you need more financial expertise but don't know if you can afford it?
In episode #177 of "Your Path to Nonprofit Leadership Podcast", financial expert Kevin Briscoe helps today's nonprofit leaders address their overall accounting needs and financial literacy. In this podcast, Kevin talks about:
An overview of the role of a fractional CFO.
How this model can benefit your nonprofit.
The various accounting roles.
The distinctions between the accounting roles.
What place each has in the philanthropic sector.
There is also discussion on how to reduce expenses and increase cash flow projections to maximize funding opportunities.
Listen to the podcast:
---
ABOUT KEVIN BRISCOE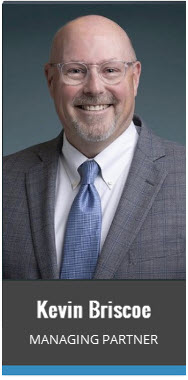 Kevin Briscoe is the Managing Partner of CFO Selections®, and stewards the culture and core values of the organization, including supporting the firm's philanthropic work through the CFOS Foundation.
Throughout his career, Kevin has held ownership and management positions, providing effective leadership in increasing profitable growth. His professional career includes nearly 30 years in finance, accounting, and operations from Fortune 100, publicly traded corporations to small, closely held settings. Before joining CFO Selections® in 2007, Kevin was part owner of a successful lighting representative business, helping drive their growth from $30 to $70 million. He has also served as a financial member of South End Equities, where he was responsible for the purchase and management of a commercial real estate portfolio. His extensive experience in business strategy, management, and operations assists him in leading the firm.
Kevin earned a Bachelor of Business Administration degree in accounting from Gonzaga University.
He currently serves as Board Advisor for The Linehan Institute, and has served as a past Board member of the Electric League of the Pacific Northwest Charitable Foundation, as Co-Chair for the American Cancer Society 'Race for a Cure' benefiting Breast Cancer research, and also enjoys playing softball in Kent, where he lives with his wife and enjoys spending time with his four children and many grandchildren.
ABOUT DR. PATTON MCDOWELL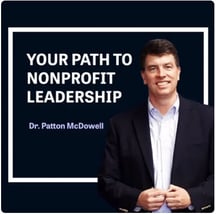 Looking for your next nonprofit job? Want to lead a nonprofit organization?
Dr. Patton McDowell (www.pattonmcdowell.com) brings the best in nonprofit career development to each podcast episode, helping you find the perfect nonprofit opportunity and guiding you along the path to senior leadership in the philanthropic sector.
Patton brings 30 years of nonprofit leadership, coaching and consulting experience, and shares best practices for individual and organizational success based on his work with over 250 nonprofit organizations and their staff and board leaders.
"Your Path to Nonprofit Leadership Podcast" features more than 120 interviews with nonprofit leaders and philanthropy experts, as well as deep-dive solo episodes and other special editions.
Learn more at: https://www.podpage.com/your-path-to-nonprofit-leadership/