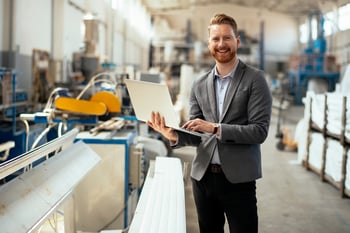 Manufacturing CFOs are a unique breed. These financial leaders must not only encompass the typical traits of highly successful CFOs but also thrive in a quickly changing environment. The fast-paced, innovation-centric nature of manufacturing requires a distinct skillset from its leadership. As a result, even CFOs that thrive in other industries can find the role at a manufacturer more challenging because manufacturing has its own financial nuances and requires a commitment to continuous learning.
So, how do you find a CFO that will succeed in the role? Look for the following characteristics:
Innovation Mindset
The best CFOs for manufacturing organizations are curious, embracing an innovation mindset as they problem solve and plan. In the push to do things better, faster, and cheaper they act as a change agent to ensure the organization keeps moving forward to remain competitive even as the industry continues to change. They ask questions and use the tools at their disposal to find better ways of doing things and never stop thinking about what may be coming next. The best CFOs embrace a continuous learning mindset to help the organization innovate and adapt.
A McKinsey article about how CFOs can be innovation allies explains that CFOs must:
Build innovation goals into the company's growth plans
Discover and validate untested innovation assumptions
Shorten the budgeting process
Establish innovation-specific metrics
Expose the finance team to business units
The article summarizes in saying, "Making changes in these areas will take time and a commitment to developing an innovation mindset. But CFOs who make the effort may end up working more effectively with project teams and advancing corporate innovation in a way that dovetails with the company's overall strategic aspirations and promotes growth and resilience."
Data-Driven
Data is at the heart of every CFO role because it is the cornerstone of all accounting and finance functions. Collecting, analyzing, and using accurate data is essential for any company's success, which makes data-driven decision making crucial for leadership. Manufacturing CFOs must have the ability to lean on forecasts and projections but also take risks when necessary. An article that discusses the top traits of effective manufacturing leadership explains,
"A leader isn't great just because they've developed great strategic plans. Great manufacturing leaders must also be willing and able to make decisions. They don't succumb to analysis paralysis or fear input from key stakeholders. Once a decision has been carefully considered by all those involved, great manufacturing leaders know when to step up and make the decision. They're also prepared to stand by it."
Results-Oriented
Successful manufacturing CFOs must have critical thinking skills that hold up in the face of fast-paced, time-sensitive work to achieve the results they desire. The best CFOs will be results-oriented in their decision making, resisting the temptation to chase short-term results if they will stymie long-term success.
Adaptable
In manufacturing one problem can quickly snowball into a much larger issue. For instance, supply shortages for a critical component can shut down production entirely. Adapting is critical!
The best manufacturing CFOs will pursue opportunities that align with their vision for the company adapting as needed to achieve the results they want. Evaluating emerging technology is one way that top manufacturing leaders can help their companies adapt to succeed:
"In manufacturing, we all know that there's always some new kind of technology that's supposed to revolutionize everything. Sometimes new technologies live up to the hype and sometimes they don't. Great manufacturing leaders know how to wade through all the nonsense and look at new technologies that will really move their company forward in terms of business innovation and product development. They embrace innovation when it makes sense for the business, but don't chase after every new technology that catches their eye."
Manufacturing CFOs must stay on top of not only emerging technology but also things like labor trends, vendor/supplier options, and global markets to shift and pivot operations as needed to keep the company profitable.
Team Player
In a manufacturing operation every piece of equipment has a distinct role to play. The same can be said of each employee. Manufacturing CFOs will need to lean on the expertise of others, tackling challenges cross-functionally to succeed. An Oracle whitepaper on the habits of effective CFOs reminds us that,
"First and foremost, the chief financial officer must have a solid working relationship with the CEO. Good relationships with other C-suite executives and direct reports are also important, of course. Without them, it's difficult for CFOs to accomplish anything. The most effective CFOs don't limit their interactions to the people they work with most. Rather, they strive to build relationships at all levels within the organization and across all departments because they realize a strong internal network will give them insights into company performance they can't get from financial data alone."
In a manufacturing setting this means being aware of what is going on down on the floor as well. Having people skills that transcend roles and pay grades is key in establishing trust and earning buy-in across the organization.
Balanced
As is the case with any c-suite role, a CFO will need to strike a balance between getting into all of the financial details versus stepping back and taking a higher-level view of the company's operations. In manufacturing this is especially crucial because while an experienced CFO may have high-level manufacturing experience, they likely do not possess the kind of technical, hands-on expertise that employees doing the work and managing the equipment do. Delegating control over smaller financial decisions to the managers of those teams is a vital way to establish respect, paving the way for greater organizational collaboration.
Unwavering Ethics
Above all, a CFO must abide by a strict code of ethics. Regardless of the industry a CFO must be honest and open in their activities and communications. They should set high expectations for the teams underneath them and hold others accountable. Without strong integrity, a CFO simply cannot succeed.
When you need a part-time CFO, we have the highly experienced financial personnel to fit your needs. Our consulting CFOs have experience in all stages of business including startup, high growth, turnaround, and M&A. If you are looking for a full-time CFO instead, we also offer executive financial recruiting services across the Washington, Oregon, and Colorado markets. Let us know how we can support your manufacturing operation with our team of experienced financial professionals and executive recruiters.