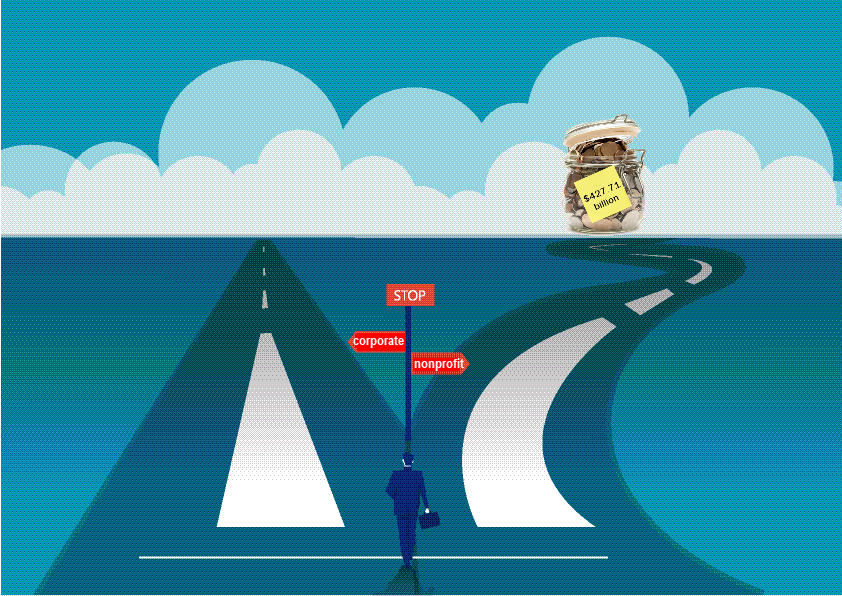 Recently a WSJ story shows the trend of more finance directors moving from corporate America to nonprofits. Such a story can be both an inspiration and risky to those using it as a reference. Today we want to highlight the trend, the reasons, the challenges, and why we also celebrate.
Though it is believed there is a growing trend; there are no industry-wide figures on the number of corporate CFOs making the switch. CFOs choosing to go to work for a charity are signing up for a new set of challenges. For example, they frequently must learn new ways of defining and measuring success.
As told in the WSJ article: "We measure financial and operational performance, but ultimately, the difference is the one we are making in the lives of people," said Paul Henrys, the chief financial officer of Feeding America, the U.S.'s second-largest charity by revenue, according to a ranking by Forbes.
Someone who made the change after 30 years as a finance executive with GE and DTCC, is Oscar Raposo. After a long backpacking trip in Asia, Oscar Raposo decided: "I wanted to do something that I was passionate about." He is now the finance chief of the International Rescue Committee, a role he took in May 2018. The New York-based refugee aid organization helps people around the world survive and rebuild their lives after natural disasters and conflicts. Oscar manages a sizable finance team of around 650 employees.
Challenges in the nonprofit world can include:
Additional oversight is needed.
More money is flowing into American nonprofits. Giving to U.S. charitable organizations hit $427.71 billion in 2018, up from $424.74 billion in 2017, according to the Giving USA Foundation.
Gathering reliable data about a nonprofit's operations can be much more difficult.
Reliance on inconsistent donations and government grants makes planning more difficult.
An organization's finances are affected by regulatory changes such as the 2017 U.S. tax overhaul.
Governments have been known to pay late.
To take on these challenges, hiring a CFO for a nonprofit typically takes longer than it takes to fill a corporate role.
While the examples in the WSJ article are beyond the scale of most small to midsized organizations, the premise of the nonprofit sector needing more capable oversight is true, with similar challenges.
It might be puzzling to many who are contributors or supporters as the article then highlights how Mr. Raposo's salary is in the range of $400,000 a year, according to the organization's latest available report. "Making as much money in the nonprofit sector" may be possible but not probable and likely, not practical for a small to mid-sized NFP organization.
It is excellent news that charitable organization contributions continue to grow. The data also emphasized the need for finance directors who will ensure the financials stay healthy and not abused.
We appreciate that more are committing their time, talent, and treasure to the organizations in need.
Even small companies have an obligation to reinvest in the communities where they earn their living," - Tom Varga, CFO Selections Founder