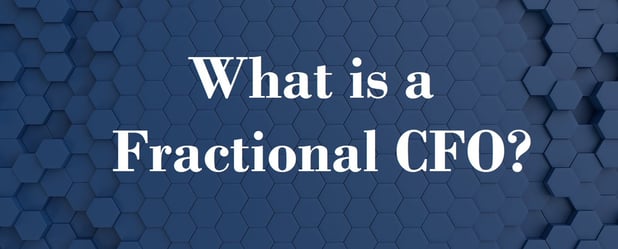 When you want to hire a Chief Financial Officer (CFO) you can hire someone on a fractional basis or into a full-time position. But before trying to understand your options for hiring a CFO, you first need to get to the very nature of the role:
A CFO is the position at the top-end of the spectrum of financial leadership that is outward-facing and forward-looking.
Once you frame the role in this way, you can start deciding how much time you need someone focusing on that area of your business.
A fractional CFO is basically a part-time or limited engagement CFO. Depending on the company's needs, a CFO can either perform ongoing high-level financial analysis and oversight on a less than full-time basis, or financial management during a specific challenge or across a predetermined time. However, a fractional CFO may not provide enough support for an organization with more extensive financial needs.
So, when is a fractional CFO a better fit?
Understanding Fractional Work
While revenue size is a rough differentiator of whether a company should take advantage of a fractional CFO, that is certainly not the only determining factor. Deciding which kinds of activities a CFO should be responsible for also helps inform whether you will need to bring someone in on a fractional basis or into a full-time role. For instance, if a company is not growing very quickly it may not need to talk to investors or bank underwriters because it does not have significant funding needs. In a situation like this, a fractional CFO may be a better option.
Fractional CFOs can act in various capacities, including doing:
Interim Work
An interim CFO keeps the organization running smoothly in a less than full-time capacity while a permanent CFO role is defined and filled.
Project Work
A project CFO is brought on for a limited-time engagement with an end date in mind to support a project that requires more significant executive activities, such as:
A transaction in the business
Building a forecast model
Identifying cash flow deficits
Planning for the revenue and cash flow implications of a downturn
Creating a reporting platform to give insight into how the business is functioning
Conducting risk analysis across potential areas of exposure like insurance liability, internal controls, staffing deficits, and system upgrade needs
"Part-time Permanent" Work
Fractional CFOs in this type of role are performing CFO functions on an ongoing basis but with less than full-time demands. Depending on the details of the engagement a fractional CFO may work for their client one or two days a week or even as little as one day a month, whatever is needed.
The Benefits of Hiring a Fractional CFO
The most salient benefit of hiring a fractional CFO is cost savings over hiring, onboarding, and retaining an in-house CFO. A fractional CFO provides access to a senior executive skillset without the cost of investing in a full-time role.
Additionally, fractional CFOs also provide the benefit of objectivity. Unlike someone who is interested in equity stake in the company, a fractional CFO can offer an independent opinion because they are not tied to the outcome. The result is unvarnished advice to the CEO based on skill and experience instead of advocacy for a particular strategy.
Identifying the Need for a Full-Time Role
Companies that have more significant ongoing financial demands need a full-time CFO. Additionally, organizations with executive leadership teams that do not have a strong understanding of the numbers being provided to them through financial statements need a CFO. In this capacity the CFO will support the CEO by answering their questions about the current and future state of the business through the lens of a financial perspective.
Impact on the Organization
Whether the CFO being brought in is fractional, project-based, or full-time, they will spend their time working on the business instead of in the business.
A fractional or project CFO will bring methodologies to performance objectives that are focused on enhancing and growing the company to execute on the CEO's vision. As a result, the company will immediately notice an improvement in the rigor of analyzing and assessing how their business is performing. Compared to an accountant, a CFO will bring greater depth of analysis on decisions that have financial implications as well as a new level of financial execution, improving consistency across reporting and strategic planning. This upgrade changes how the business is perceived both internally and externally. The result is greater alignment across finance, accounting, HR, and IT teams around organizational objectives.
When a full-time CFO is hired into a new role, they will immediately begin identifying risk and uncovering areas where the company is spending money needlessly. They will also analyze where the business is making money to help transition CEOs from making gut-based decisions to data-driven decisions. As a result, the CEO will have more confidence when making strategic decisions, creating a firm foundation for growth. Within a year the rest of the management team should be more comfortable reading the financials as well, giving them better understanding into the numbers that are being presented.
Both types of roles bring both immediate and long-term benefits to support growth initiatives, making them critical strategic hires. When you are ready to begin the search for your next CFO, reach out to our team. Whether you are looking for a fractional consulting CFO role, or a full-time in-house CFO, we can help you find the right individual to bolster your executive leadership team.