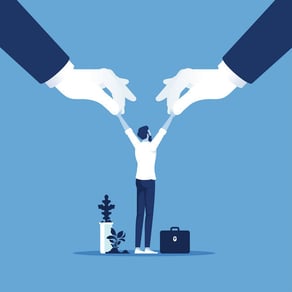 The war for talent that emerged amid The Great Resignation is still going strong in the areas of accounting and finance. As Hannah Green explains,
"The accounting sector has a problem with numbers. Specifically, it's becoming harder and harder for firms to attract top talent. Why? There just aren't enough talented bodies to go around. In what's come to be known as the 'war for talent', top firms are finding it increasingly difficult to secure and retain highly qualified finance and accounting professionals."
What is causing this accounting talent war?
Fewer people entering the field of accounting would have been enough to constrict the hiring pool on its own, but this supply issue was further exacerbated by the pandemic in a number of ways. An aging US population was already tipping the scales toward a shortage of domestic employees in highly skilled roles and senior management positions across a number of careers. When the pandemic hit, many accounting and finance professionals that had been burning the candle at both ends for decades already decided to step back, retiring early, or downshifting their contributions to part-time or advisory-only roles. And while this shift was occurring among late career professionals, mid-career and early career professionals put their own stresses on the system. The pandemic saw early career professionals across a number of industries switching jobs for more lucrative roles and mid-career professionals taking time away from their roles to care for children and elderly family members. The result was a compounding effect of dwindling workers throughout the entire accounting career trajectory, forcing employers to fight over the same pool of prospects to fill their vacant accounting and finance roles. This, in a nutshell, is how we got to where we are now in the accounting and finance talent war.
So where do we go from here? While it is pragmatic to say that fixing the underlying cause of fewer people going into the industry is going to be the best long-term solution, employers need help right now. The following strategies will help your organization win the war for top talent across accounting, finance, controller, and Chief Financial Officer (CFO) roles:
Benefits
Creative benefit offerings like paying off student loan debt, lowering insurance copays and deductibles, increasing 401k matching for vested employees, including an HSA program, offering supplemental life insurance, or providing access to independent financial planning services are giving some employers the edge over their competition in this stiff labor market. However, not all benefits carry the same weight.
Organizations need to analyze what kind of benefits resonate most with their employees and high-value prospects and weigh their preferences against the cost of offering them. The goal is to identify the benefits that provide the greatest return for employees while incurring the lowest costs for their employer. Keep in mind that individual employee groups may prefer different types of benefits. For instance, accounting and finance professionals may prefer benefits like increased retirement contributions rather than signing bonuses.
And while the benefits themselves are important, the communication around them is even more so. As our own Scott Fowle explains,
"I found in my history as a CFO that companies don't do a great job of communicating to employees about the value of their benefits. I remember an executive at one firm who worked with me for more than five years and never contributed anything to his 401k. While he distrusted the company 401k plan, he missed out on a fully vested match of 6% of his salary. More education on the real benefit of benefits is needed… Another issue that comes up each year is understanding how health care plan design and enrollment options can change each employee's financial picture. This is seldom discussed when seeking a new job; it's usually about the money or the title."
Compensation
Savvy candidates will not only seek out offers with an attractive base salary and benefits package, but they will also take a forward-looking approach and weigh the possibility of future compensation in the form of annual raises, performance incentives, and retention bonuses. That means that the raises you give your existing employees this year may not only influence retention of key personnel, but whether you are able to attract top talent as well. This is a weighty burden for executive management, who must balance business needs with budgets and find a number that will keep everyone happy.
However, raises are not the only compensation increase you should be prepared for this year. Our recruiting team estimates that 50-70% of employers are going to need to expand their existing salary offers to continue to be competitive in the market as well.
Culture
With the shift to remote work the types of in-office perks that once attracted the attention of job prospects are no longer relevant for many accounting and finance professionals. Gone are the days of fitness classes at work, an in-house masseuse, and food truck Fridays. These types of gimmicky perks that once strived to create the right work environment and culture have been forced to evolve.
Today's employees do not have a "work environment" that revolves around a cubicle and employee breakroom, but they do still have an environment that they belong to – the perceived company culture that they contribute to and help shape. With employees working offsite, company culture is manifesting itself through other areas like access to paid educational opportunities and the ability to take mental health days as well as traditional PTO. Additionally, Jim Tyson explains that employers can bolster hiring and retention by offering a core suite of "people management" benefits like:
Demonstrating respect for employees
Showing employees empathy during difficult personal situations
Being sensitive to employees' mental health needs
Praising employees for a job well done
Empowering employees to contribute
Trusting employees with new responsibilities
Engaging new employees
Allowing flexibility
Job flexibility, in particular, has become a staple for organizations that wish to remain competitive. As John Touey explains in his article The Return of the Finance Talent War,
"Most, if not all, finance staff has been working remotely for the past year (and according to several recent surveys, most prefer it). Providing continued flexibility on work location and the amount of in-office face-time required will be critical to retention. If an organization doesn't have a model responsive to employees' new expectations, current team members may leave for a firm that does. This is particularly true in a function like finance and accounting, where skillsets are industry agnostic."
Whether it is a flexible work schedule or location, employers that are willing to work with employees' preferences will find employees that are willing to work for them.
Job Satisfaction
While the right company culture can certainly improve job satisfaction, the specifics of an employee's individual role are likely the primary driver in determining whether that employee is going to be happy at the company. Simply put, you can work for a truly great company but if your specific role is a dud, you will not stay long.
With how far accounting and finance software has come over the years, leaning on technology to reduce "busy work" is a key strategy attracting top talent. Skilled professionals have no desire to do the kind of mundane, repetitive tasks that can be automated. Instead, they prefer to be challenged with more stimulating job functions that allow them to feel like they are making their mark on the company as well as learning and growing in their industry knowledge. AI can be used to make an employee's job more rewarding in any area of the company, but this is an especially salient point for accounting and finance staff, who are often tasked with monotonous tasks like processing expense reports, reconciling bank accounts, or processing payroll.
The best candidates will hold out for roles that are interesting to them and do not require that they perform work that is beneath their skill-level. When hiring, emphasize the types of big impact projects that candidates may be working on and the kinds of results you would like to see achieved. These kinds of conversations often excite hardworking candidates and may sway them in your favor as they evaluate multiple offers.
Additionally, not needing to focus on menial tasks frees up accounting and finance staff to learn and improve on the kinds of skills that will assist them with their career progression. When given the choice between TPS reports and career pathing, the most ambitious candidates will seek out the kinds of roles that set them up for the career progression they desire for their futures.
When you are ready to hire an experienced accounting or finance professional, please reach out to us. Our best-in-class executive recruiters can find the CFO or Controller to fit your needs. We understand what makes these types of top-tier professionals stand out from their peers and know where to find them. We will use our unique skillset to tailor a search to meet your needs and fit your cultural environment. Let us tell you about how our network allows us access to candidates that are not available through traditional channels.